La Peyralade or Dolmen de Vaour (Tarn)
[1:25.000 Sheet/Feuille 2241 O]

One of the most conspicuous and easily-found megalithic tombs in Western Europe,
this damaged and propped-up dolmen is in a large island at a road-junction
with fine views across the valley of the Aveyron.
Une des tombes mégalithiques les plus voyantes et faciles à trouver dans l'Europe Occidentale,
ce dolmen abîmé et consolidé se trouve à un carrefour où il y a un panorama de la vallée de l'Aveyron.
This photo was taken before two hewn limestone props were added to support the chamber.
On a pris cette photo-ci avant qu'on a consolidé la dalle-couverture avec des pierres nouvelles.
The photo below was taken in May 2008.
La photo ci-dessous était prise mai 2008.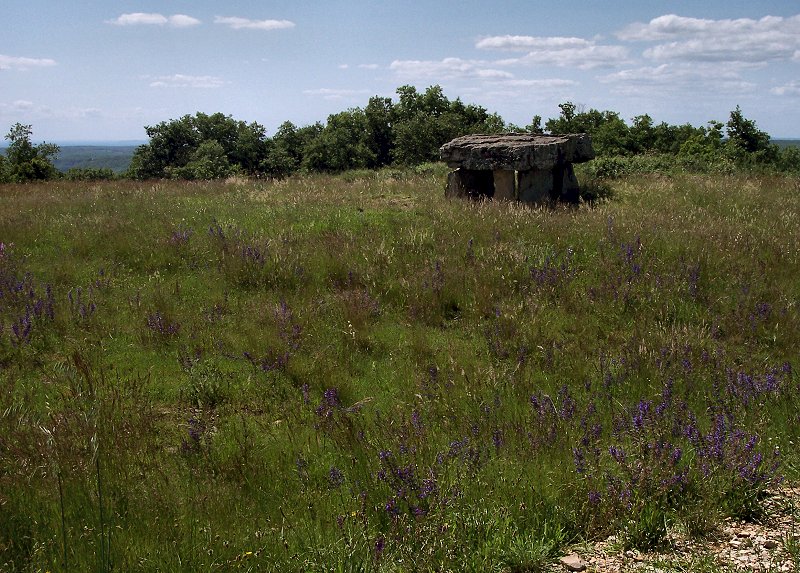 The South side has an aperture or "lunette" which is a feature of the causses dolmens..
La cime d'une grande et longue dalle du côté Sud de ce grand dolmen est chanfreinée «en lunette»,
comme aux plusieurs dolmens des causses.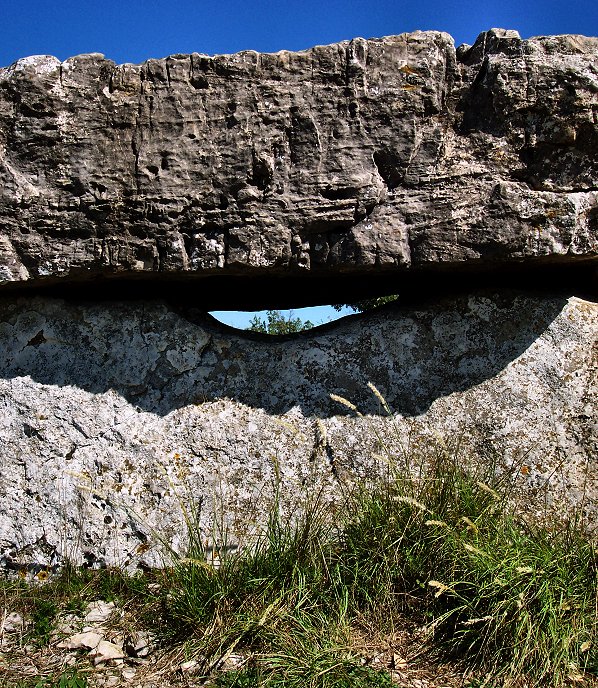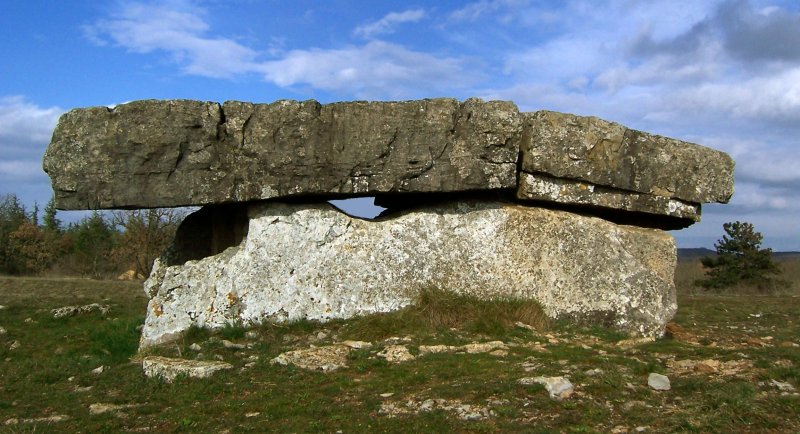 The roof was possibly split by bonfires which would have been visible from far and wide.
La dalle-couverture peut-être a été delitée par les feux de joie, visibles jusqu'à loin.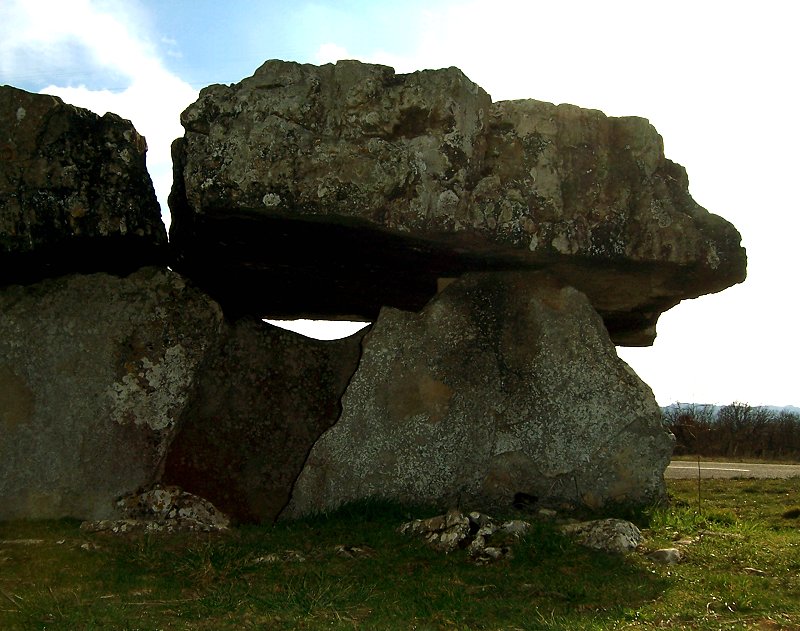 Recent disturbance at the front of the tomb seems to reveal the top of a façade running South from the East-facing entrance
- though it could be a side-passage like those of the tombs at Des Adrels and Brignoles N°1 (Var).
Dérangement récent devant la tombe paraît reveler la cime d'une façade qui mène au Sud de l'entrée qui face à l'Est
- sinon un passage lateral comme ceux des dolmens de Brignoles N°1 et Des Adrels (Var).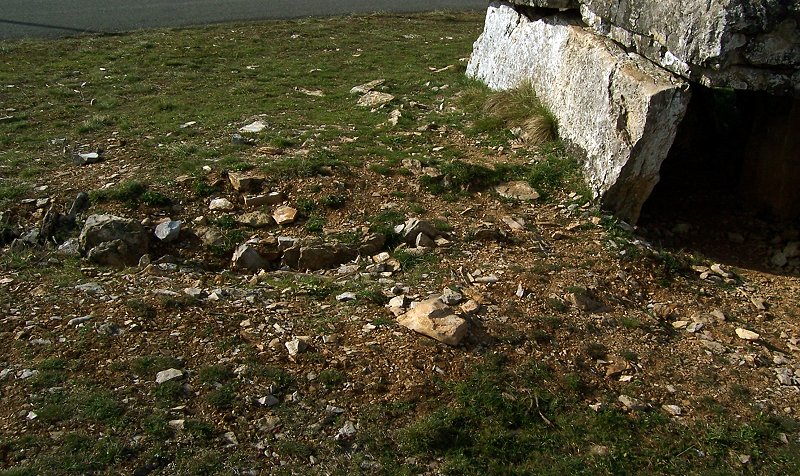 Two views of the beautiful underside of this tomb.
Deux vues du beau dessous de cette tombe.
2.5 km NE of the Vaour dolmen is the larger, almost intact Peyro Seco at Roussayrolles >
12.7 km SE of La Peyralade is
le Dolmen or La Peyro Levado de Saint-Pierre, Sainte-Cécile du Cayroux, Verdier (Tarn)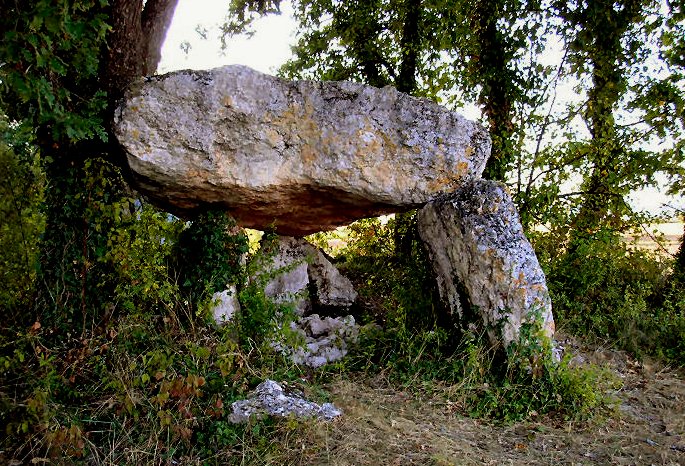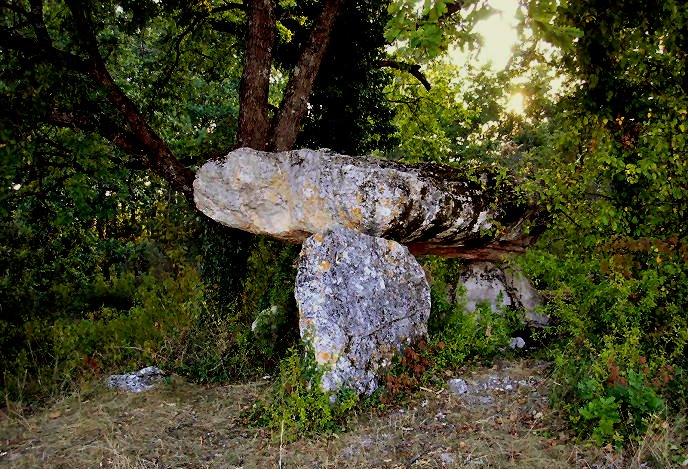 Two painterly photos by Martyn Copcutt.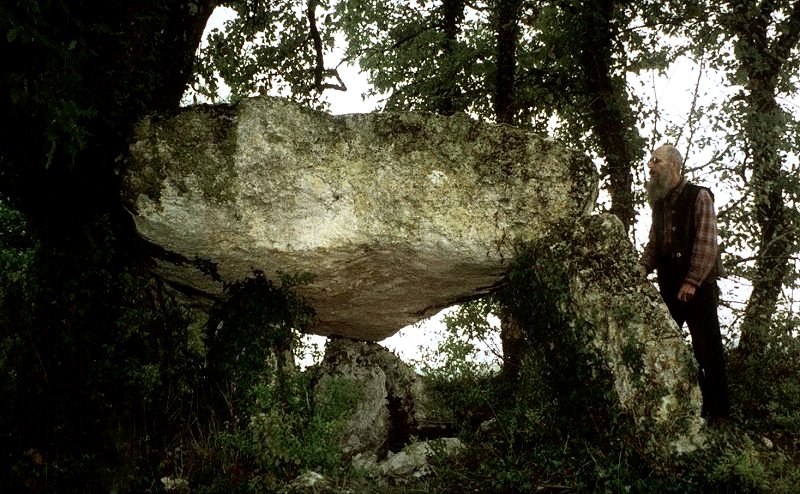 A self-portrait of the author.
5.1 km due E of the Peyro Levado, and just visible to the S of the road, is
Le Menhir de Vieux or Menhir de Sainte-Carissime (Verdier)