Conques (Aveyron)

On the magnificent Last Judgement tympanum of this celebrated abbey-church
a devil sodomises a sinner into the jaws of Hell/Satan straight after another sinner,
whose lower legs are disappearing into the infernal maw.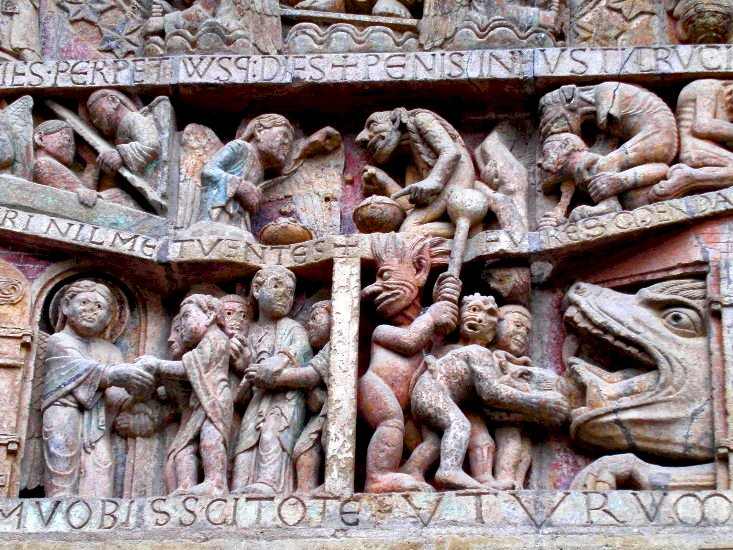 photo by Tom Smith-Vaniz
In these great after-life scenes (usually on tympana) the extremely-aware Romanesque sculptors
show how man has made perdition out of paradise.
We find perdition much more interesting and exciting.

Farther south and east in the same département (most of the ancient county of Rouergue) is the capital at Verlac,
on which one devil (or monster) sodomises another whose scrotum is in the jaws of a wolf (or perhaps an ass).
This represents not the earthly deed, unlike the remarkable corbel of heterosexual sodomy at Tayac (Gironde),
but the goings-on in Hell - which, no doubt, many might secretly look forward to.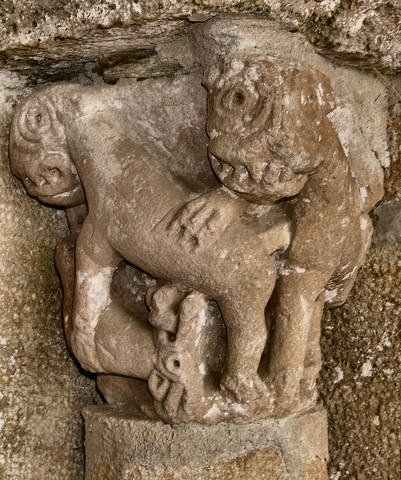 Not far away is La Capelle-Bonance, with this classic (if crude) feet-to-ears female
high up on the bell-tower.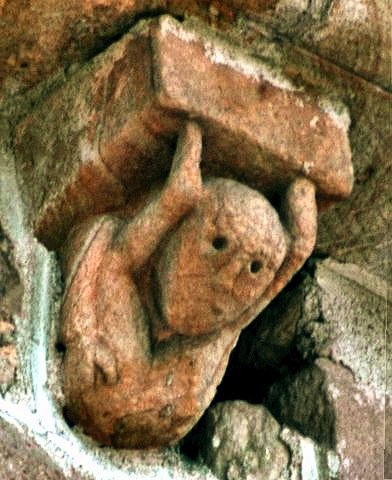 Photos by Jacques Martin
The rural churches of Rouergue are little-known, and, of course, some of them have very interesting corbels
which can be seen on Jacques Martin's francophone website.
Here is an example of a lively capital, also photographed by Jacques Martin:

Villeneuve d'Aveyron: Luxuria with elegantly-writhing snakes at her breasts.