Septfonds, Tarn-et-Garonne
1:25,000 sheet/feuille 2140 O

Septfonds (like the nearby Saint-Antonin-Noble-Val) is a commune.
Because many communes may have dozens of megaliths, the usual way of listing them is according to lieu-dit
(a delineation of land rather like an Irish townland, which is used in the registration of property (Cadastre).
Comme certains communes possèdent des dizaines de mégalithes,
il est d'usage de donner le noms du tènement ou du lieu-dit sur lequel est construit le mégalithe.
Ces noms de lieux sont enregistrés sur le cadastre communal.
There are reputed to be 15 dolmens (mostly ruinous) around Septfonds,
close to which is the site of a camp for 15,000 refugees from the Spanish Civil War,
later used for the demobilisation of non-French allied soldiers, then, under the Vichy government,
for the detention of foreign 'undesirables' - including a small number of Jews
who had not been saved by the network supported by the Prefect and the bishop of Montauban,
before they were shipped off via Paris to Auschwitz.
Il y a 15 dolmens pour partie ruinés autour du village de Septfonds.
Septfonds a abrité un camp de détention pour 15.000 réfugiés républicains espagnols lors de la guerre civile espagnole
et, plus tard, sous l'Etat Français pétainiste de camp de détention
« destiné aux officiers des armées ex-alliées ayant tenté de quitter la France clandestinement. »
Ensuite des « indésirables étrangers » dont les quelques juifs que les réseaux clandestins
du Prefêt et de l'évêque de Montauban n'ont pas pu sauver des collabos pétainistes,
y attendaient leur envoi vers les camps de concentration dans la Pologne.

1. La Finelle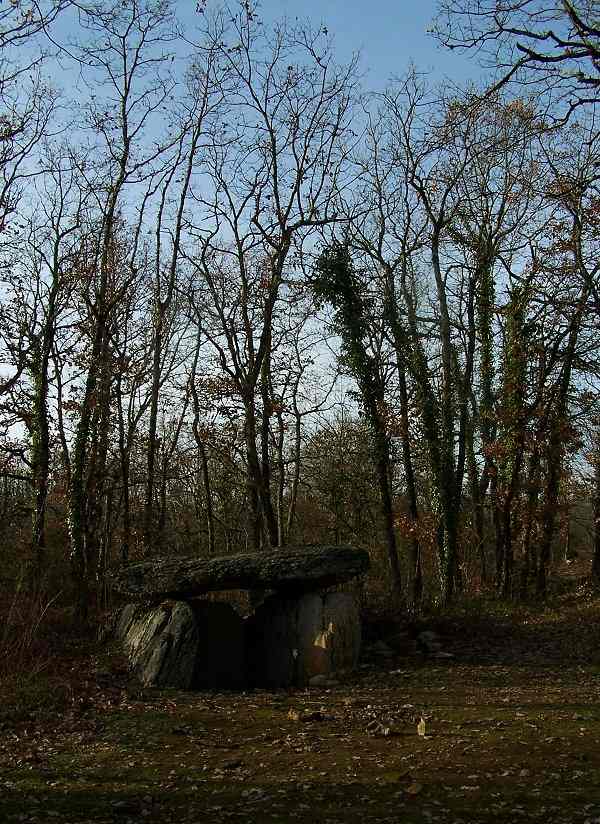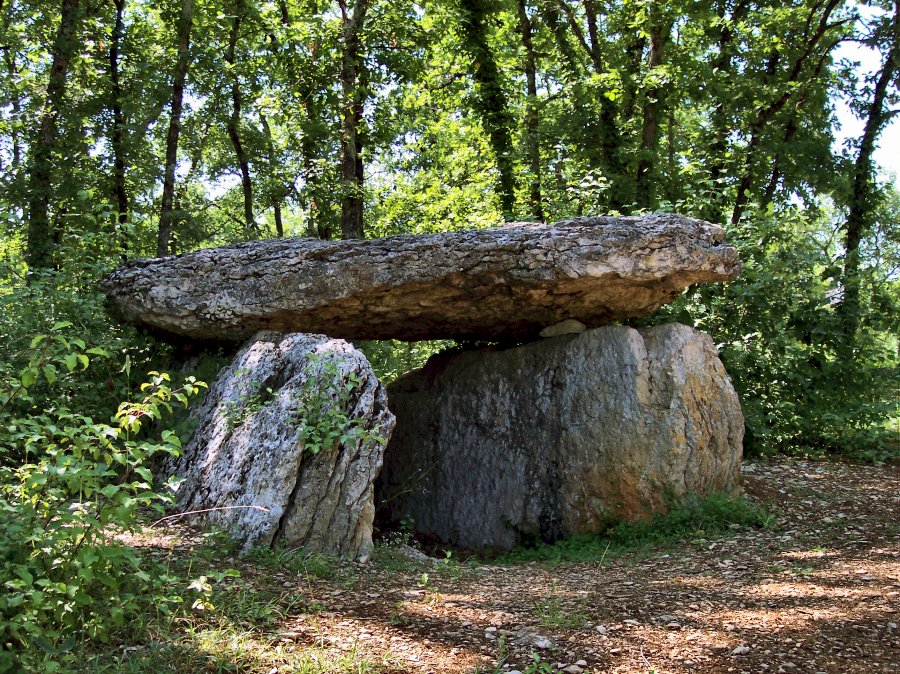 from the front...vue de face...
and the rear. et de l'arrière.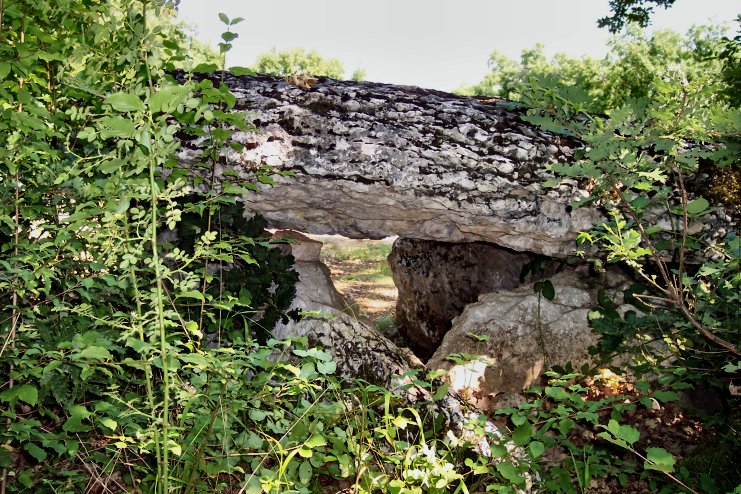 Note the chocking stone between the roof and the right-hand orthostat.
A noter : la petite pierre intercalante entre l'orthostat de droite et la dalle-couverture.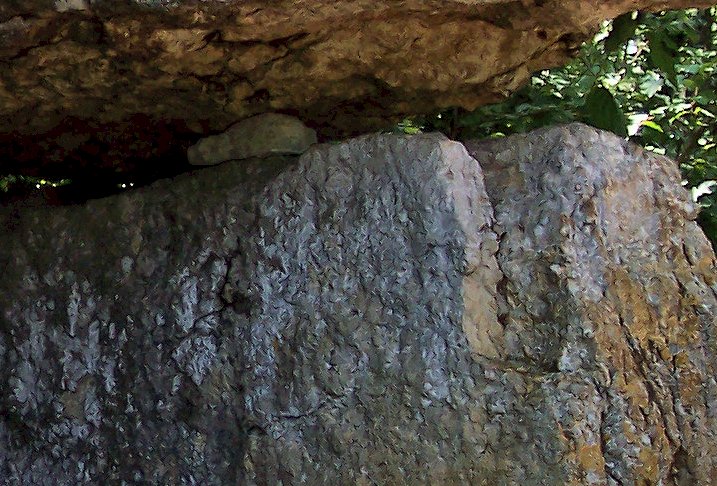 2. The roadside La Peyrelevade still partly-embedded in its cairn.
Sur le bord du chemin, le dolmen de La Peyrelevade reste toujours en partie enterré dans son tumulus.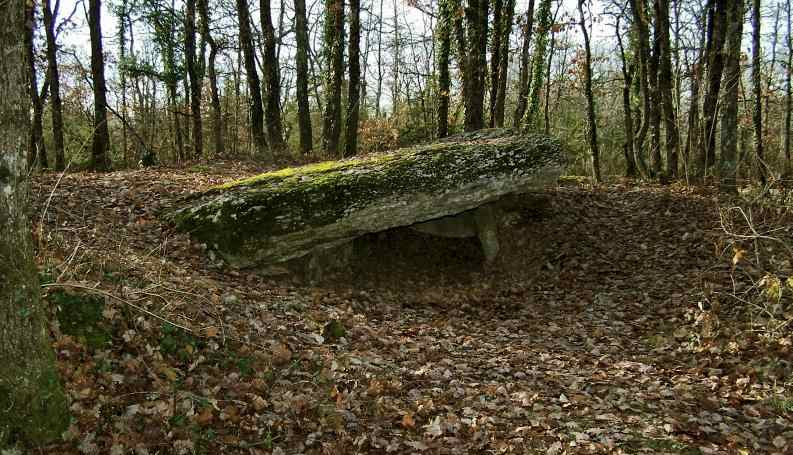 3. Caux-Vieilles,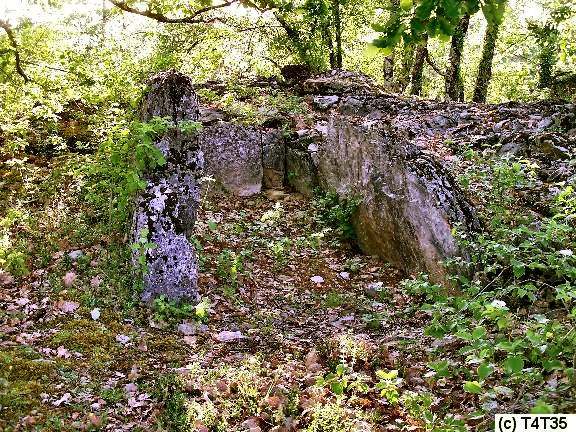 reported to have still had its capstone within living memory.
Ce dolmen avait encore sa table il n'y a pas si longtemps.
4. Dolmens de Cuzouls
no.1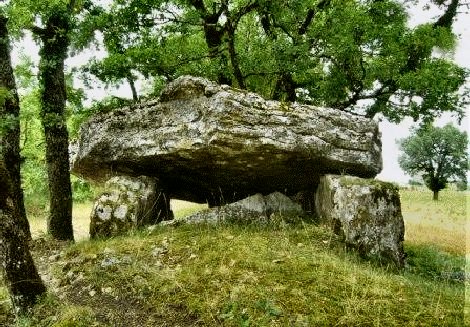 Cuzouls no.2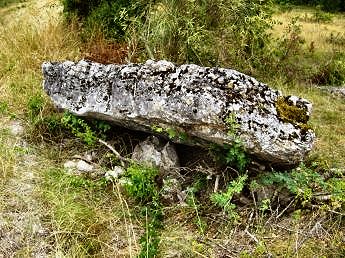 5. On the other side of the main (D.926) road from Villefranche-de-Rouergue to Montauban
and about 1.3 km S by E of the Finelle tomb is the easily-found tomb of Bartalbenque 1,
stated by Bernard Pajot (excavator of Le Pech and other tombs in the commune of Saint-Antonin-Noble-Val)
to be a "double box tomb" like the one excavated and hideously restored at Le Pech.
Sur l'autre côté de la route D926 entre Villefranche-de-Rouergue et Montauban
et à environ 1.300 kms au sud du groupe de dolmens de Finelle se trouve le groupe de 3 dolmens de Bartalbenque.
Le dolmen de Bartalbenque 1 a été mis à jour par par Bernard Pajot
(fouilleur du dolmen du Pech et d'autres tombeaux sur la commune de Saint-Antonin-Noble-Val )
Ce dolmen est un dolmen double (ou dolmen emboîté) comme celui qui a été fouillé et affreusement restauré au Pech.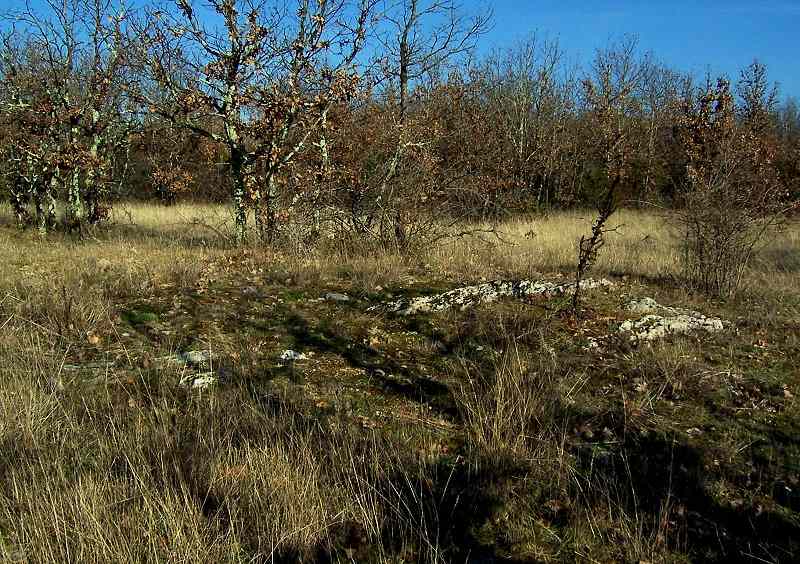 As this photo from the SW shows, it still has its mound or cairn, but lacks its roof-stones.
It faces East like almost all allées couvertes,
and the outline of the long rectangular chamber can clearly be seen.
Nevertheless, this is a megalith for the ultra-enthusiast.
Comme cette photo prise du sud-ouest le montre, il a toujours son tumulus mais sa table a disparu.
Il s'ouvre à l'Est comme presque toutes les allées couvertes,
On peut clairement voir le plan de la longue chambre rectangulaire.
Néanmoins, étant donné son état de conservation, c'est un dolmen réservé aux super-fans de mégalithes.
5. The finest dolmen in the commune of Septfonds, near the hamlet of Saint-Cirq, is le Tombeau du Géant. >
Le plus beau dolmen sur la commune de Septfonds, pas loin de l'hameau de Saint-Cirq, est le Tombeau du Géant. >
---
2.2 km South of Caylus, next village to the NE along the D.926 in the direction of
Villefranche-de-Rouergue, is yet another tomb, grotesquely "Christianised", at
Saillac >
South-east of Septfonds are the several
Dolmens of Saint-Antonin-Noble-Val >