Alstonefield (Staffordshire)

This remarkable Romanesque corbel was discovered in 2007 by Ms Akiko Kuroda, who was on a Northern Earth field-trip
which included St Peter's church, Alstonefield in its itinerary.
This church has 'Saxon' (i.e. 10th century) crosses and other fragments, but the exhibitionist corbel has never been recorded.
A description was subsequently published in the magazine Northern Earth, vol. 110 (2007).
The corbel is of a compact squarish kind typical of many in Western and Central France,
and probably belongs to a particular school or fraternity of sculptors.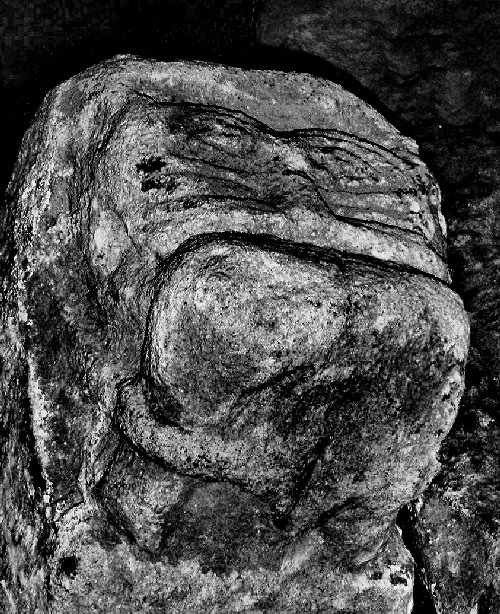 photo by John Billingsley

This is a very interesting variation of the 'sinner in the jaws of Hell' motif which is so common in Romanesque sculpture.
Hell in this carving is personified in a feline monster which has already swallowed the head and torso of a female (seen from behind),
and is stuffing the rest of her down its maw.
While she is being swallowed, the female is pulling back the labia of her enormous vulva.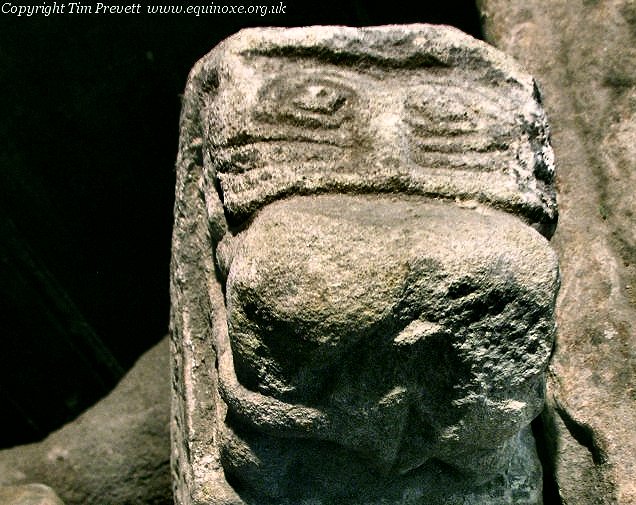 The nearest in style to this corbel that I have found is at Moussages (Cantal),
though the Alstonefield corbel is about half the depth.
The Moussages carving shows a pair of concupiscent or adulterous lovers about to be swallowed head-first
by the hellish feline.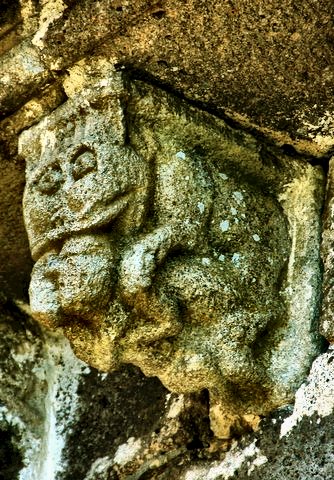 Another related (and superior) carving is at Saint-Antonin-Noble-Val (Tarn-et-Garonne).
Here the hellish beast's head is upside down, and the Rich and Lascivious Woman is descending feet-first,
revealing a large circular vulva as she does so.