Bredwardine (Herefordshire)
The church leaflet describes the female figure as a monkey,
but John Harding's photos show clearly that the simian ears are in fact a coiffure or head-dress
indicating the sensuality and luxury of the woman who is being tempted or threatened
by the very Irish-Pictish theriomorph on the left.
I have been told that Norse (Viking) women had this (shall we call it the Brünnhilde ?) hair-style
which is not unknown in Germany today. .
This adds a pagan and pirate dimension to the concept and depiction of Luxuria and Vanitas
which may throw light on a famously enigmatic carving on the North Cross at Clonmacnois in Ireland
and on other damaged, squatting figures on slabs listed as Irish 'sheela-na-gigs'.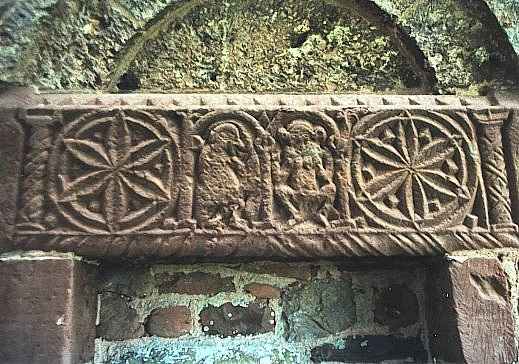 The sinning woman seems to be holding something to her mouth - probably not a mouth-organ -
so the carving, already fraught with significance, might also represent gluttony,
which is an accompanying theme on some Romanesque male exhibitionists.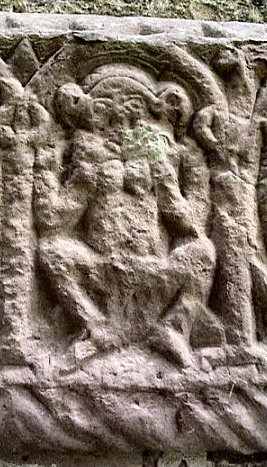 click for a larger photo of both figures
Compare the above sculpture with scenes on Irish crosses.
The West face of the Market Cross at Kells (Meath).

While the scene above (resembling one on a Pictish stone at Kettins, Angus) might be the Temptation of Saint Anthony (though he is unbearded), similar trios are on the lid of the well-known Anglo-Saxon purse which is part of the Sutton Hoo treasure in the British Museum.




The base of the cross at Moone (Kildare).

At the top are Saints Anthony of the Desert and Paul-the-Hermit receiving a loaf of bread from a dove sent by God, while at the bottom is the Beast of the Apocalypse, here with only six of its seven heads.

In between is one of those enigmatic scenes usually thought to be of temptation (of St Anthony)...

...unlike this one on the shaft of the 'Market Cross' at Kells (Meath), whose braid-bearded figure has horns and a bovine tail, while his right ear is ?bitten by one of the pawing or mauling beasts.
The genital area - which is the centre of the design - has been defaced.
It is not clear whether the beasts, his beard or his hands - or all three - were covering it.

click for more on the significance of hair and beards >