Until 2007 the above figure on the little ruined Augustinian nunnery was the only exhibitionist figure reported from the Island.
But in the summer of 2007 Kjartan Hauglid went to Iona, looked at the post-Romanesque ('Transitional') abbey church,
and found a most interesting window on the S side of the nave.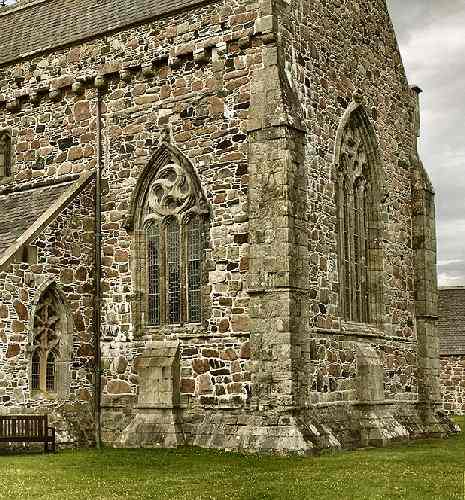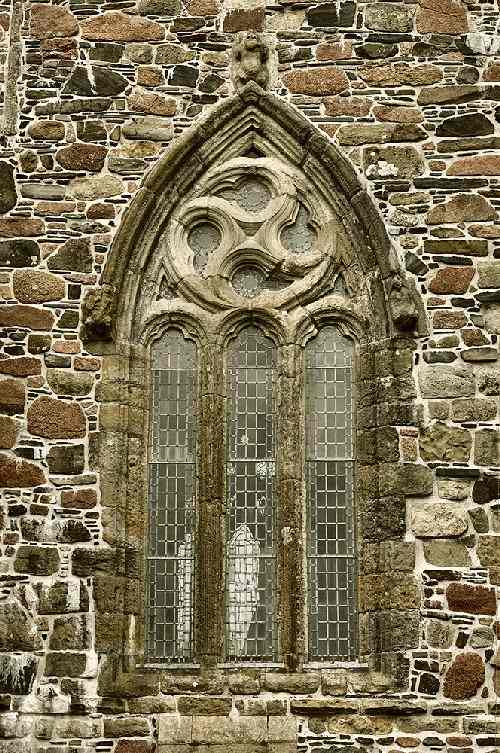 At the top of the window is a pot-bellied Satan or devil similar to many found in France,
notably Moissac.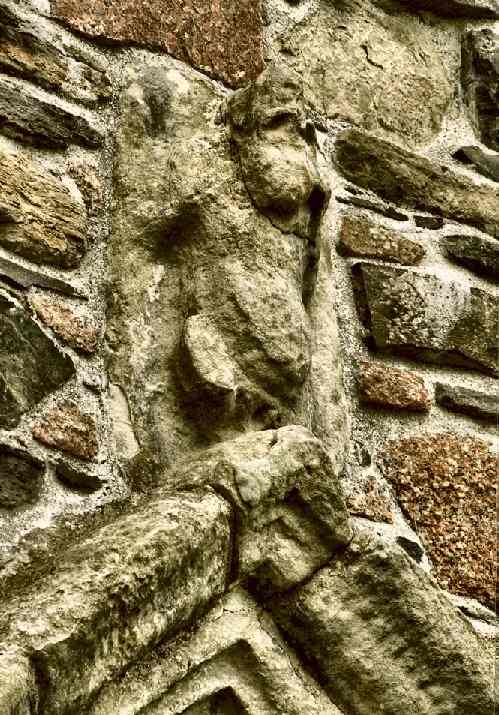 On the left-hand label-stop is a crouching male exhibitionist, also similar to Romanesque corbel-carvings,
worn and damaged, but with large penis and scrotum, which he seems to have held in his left hand..
His right hand is raised to pull his beard.

On the right-hand label-stop is a female, with carefully executed vulva.
Her left hand is between her legs, with her index finger touching her clitoris.
Her right hand rests on her right knee. She has hardly any breasts, but has a slightly-swollen belly,
and her navel is indicated.
| | |
| --- | --- |
| photos by Kjartan Hauglid | |
This window dates from about 1250, and its message is clear. Satan will triumph over the well-fed concupiscent.
The touching of the clitoris - far from being a celebration of femininity, as some New Age feminists have claimed -
merely repeats the Church's long-held teaching that sex should have no pleasure in it, especially for women.
Pleasure in sex will lead, via other sins of the flesh, to Hell.
The execution of the Abbey and Nunnery figures is of similar quality, but the nunnery figure is even more worn,
and is not demonstrably exhibitionist. However, given the splayed legs, the fat belly, and the proximity of the
slightly-later carvings, it seems likely to have been a female exhibitionist.