Grain (Kent)


A remarkable, now-solitary Romanesque corbel mounted inside the church, and combining several motifs of social unacceptability: this is a tongue-protruding beard-puller whose beard is distinctly vulva-shaped.
Note the splendid hands.

Tongue-stickers (or -pokers) are common on corbel tables and are a kind of semi-bowdlerised male exhibitionist. The same is true for tongue-pullers, like this one at Pérignac (Charente-Maritime):

After over 800 years of being associated with the church, the present congregation wish this emphatically anti-carnal corbel to be removed on grounds of 'obscenity'.
click for a (Continental) Romanesque beard >
and for remarkable Irish beard-pullers >
and for a selection of beard-pullers, tongue-pokers, etc. >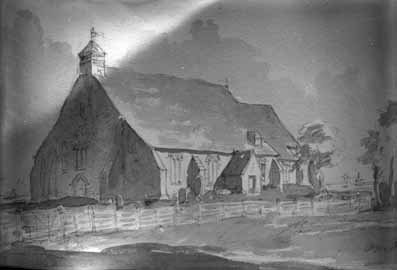 An 1809 view of Grain Church - before a neo-Romanesque tower was added.