Dalmeny Church near Queensferry (Lothian)

This fine Scottish Romanesque church in the best Norman style has some superb carved heads on corbels and culs-de-lampe.
Mouthpullers (indicating sexual carnality) are amongst the commonest figure-motifs in Romanesque sculpture, and this is a very fine and
well preserved, bearded example.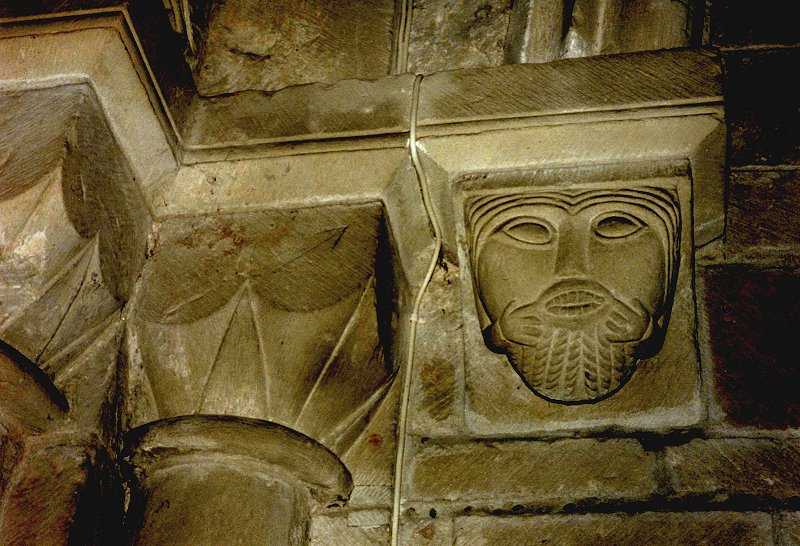 Compare with a beard-puller at Cénac (Dordogne)...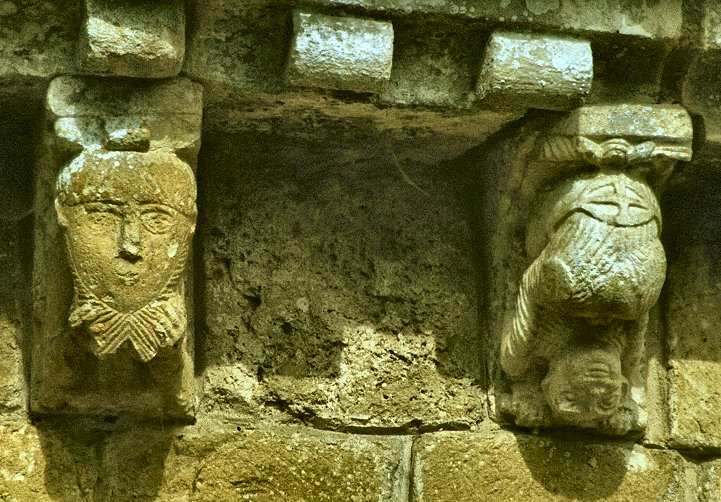 ...a bearded, tongue-sticking mouthpuller at Herment (Puy-de-Dôme)...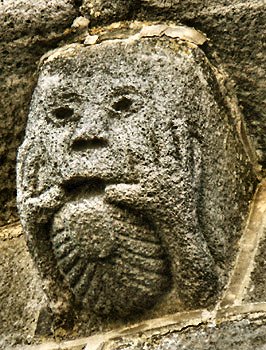 ...a fine devil on a cul-de-lampe at Civray (Vienne)...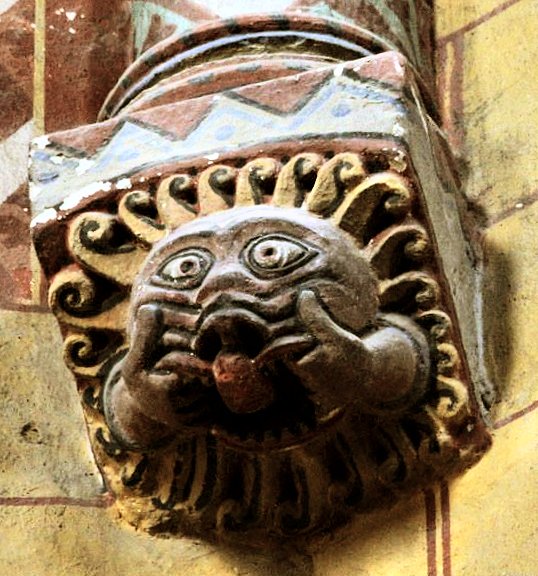 ...and with a pair of mouth-pulling beasts at San Antimo (Siena, Italy)...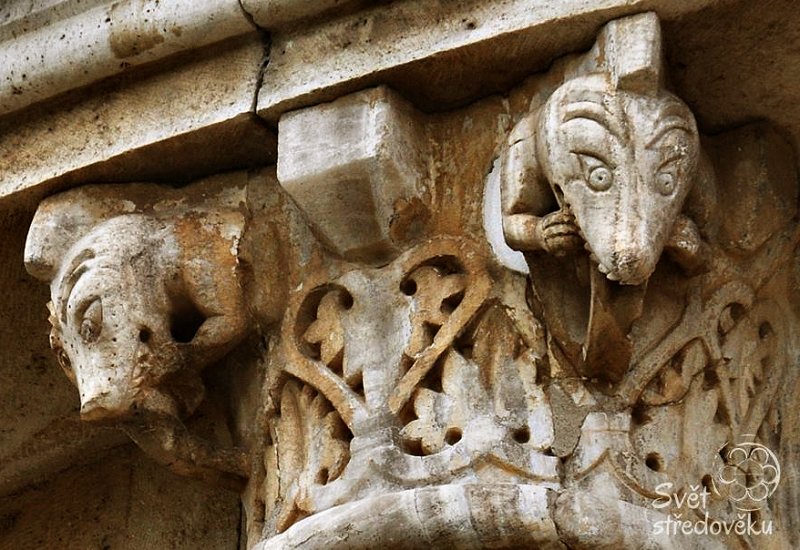 ...and with a mouthpuller at Oloron-Sainte-Marie (Pyrenées-Atlantiques), with some of the original paint still adhering.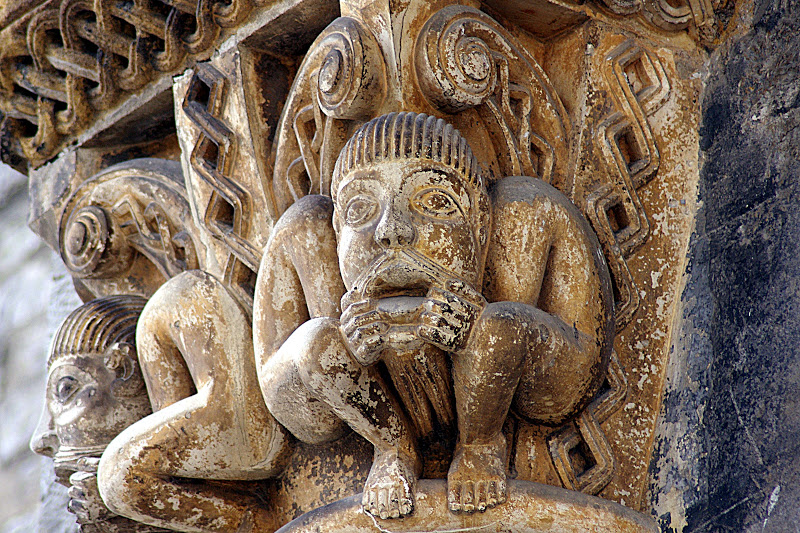 click for another splendid carving at Oloron


Paray-le-Monial (Saône-et-Loire) : more a hider than a puller,
and popularly dubbed Le Silencieux.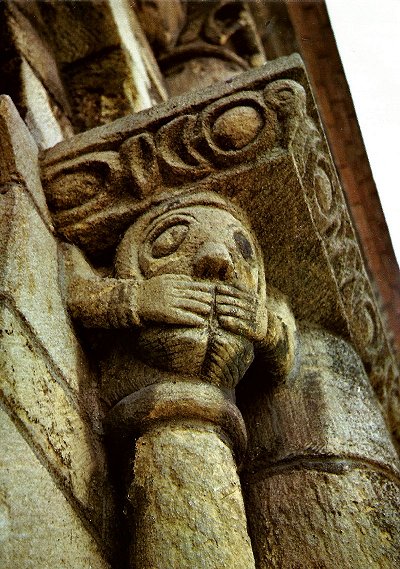 Rustic mouth-pullers are very frequent. This is a rather fetching one (retouched) in a short-legged onesie
at Estables (Aveyron).
see other corbels at this little-known church >
A fountain outside the church of Santa Sabina in Rome - a Classical mask -
has been adapted to imitate the 'Mask of Truth', a Roman manhole-cover at the Church of Santa Maria in Cosmedin,
which was reputed to bite the hand off any liar who inserted his or her hand into its mouth.
This tradition may also feed into the iconography of the mouth-puller.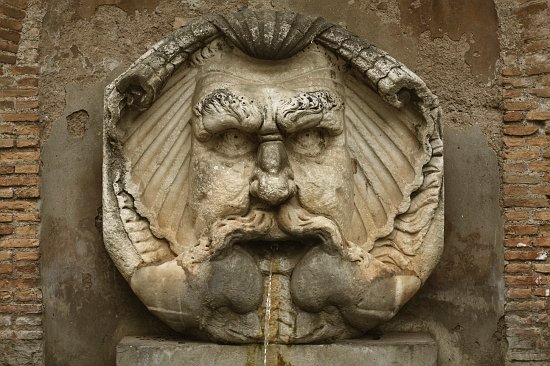 Dalmeny church: a tongue-poking beast-mask.


The tongue represents calumny, blasphemy and false witness, but is also is a stand-in for the penis, as these New Testament lines (James III, 5-8) indicate:

"Even so the tongue is a little member, and boasteth great things.Behold, how great a matter a little fire kindleth.
And the tongue is a fire, a world of iniquity: so is the tongue among our members, and setteth on fire the course of nature; and it is set on fire of hell.
For every kind of beasts, and of birds, and of serpents, and of things in the sea, is tamed, and hath been tamed of mankind:
but the tongue can no man tame; it is an unruly evil, full of deadly poison..."

(verse 10) "Out of the same mouth proceedeth blessing and cursing. My brethren, these things ought not so to be."

Compare with a decorative, foliate example at Cercles (Dordogne)...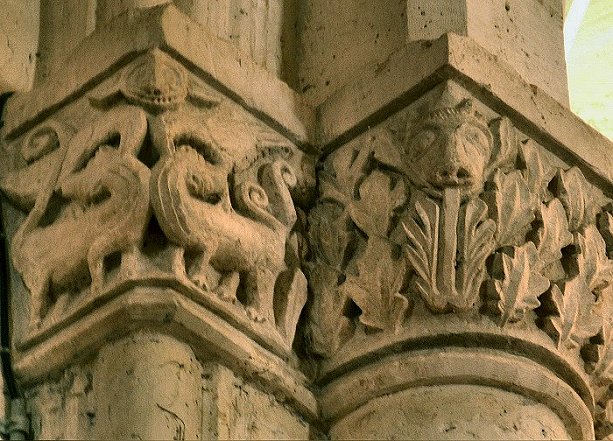 ..and with this remarkable tongue-poker capital at Bouëx (Charente)...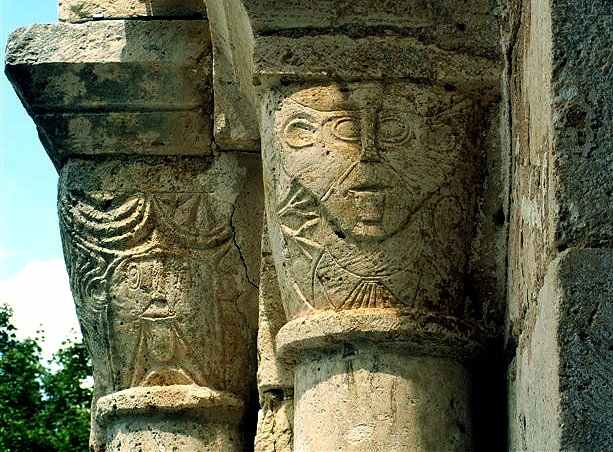 ...and a fine capital at Incinillas (Burgos) on which the tongue-sticker is about to have its eyes pecked out
by an avenging eagle (symbolising divine retribution).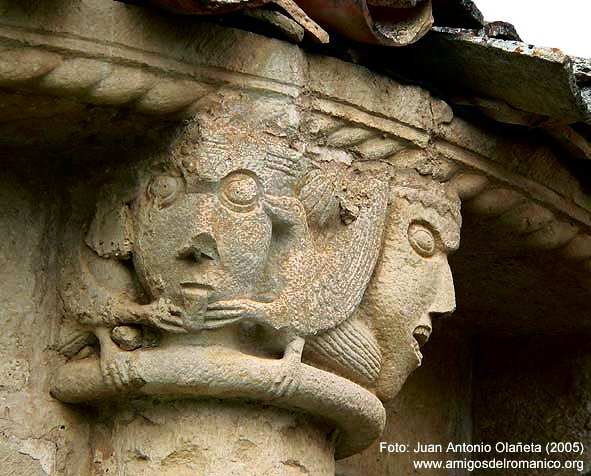 Some tongue-stickers - like the one above at Incinillas - might be illustrations of punishment
rather than a coded representation of lasciviousness.
But what is one to make of this female tongue-sticker in the act of giving birth ?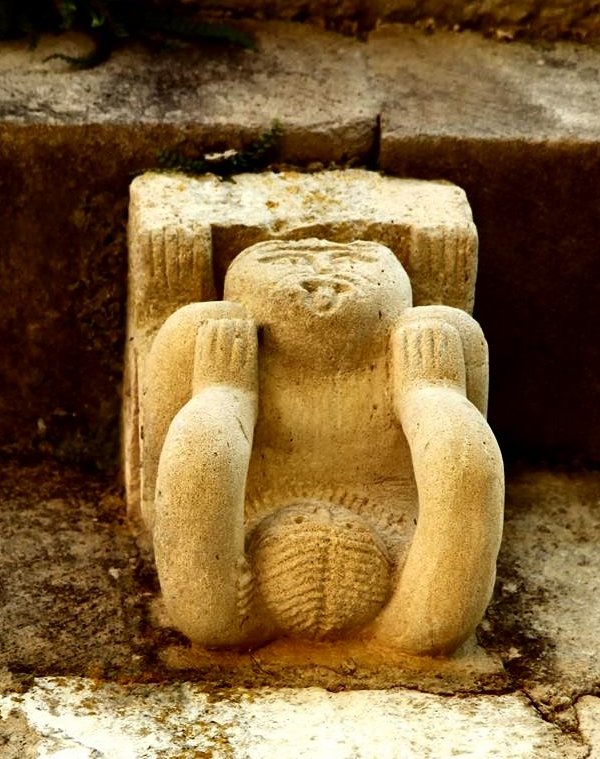 Saint-Ouen-la-Thène (Charente-Maritime)

And what about tongue-pullers like these in the Charente?
| | |
| --- | --- |
| Pérignac | Conzac |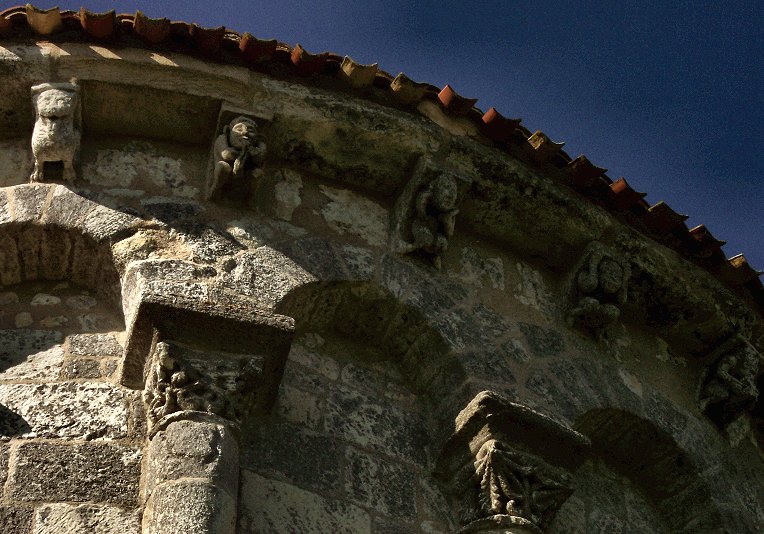 And these tongue-pulling cynomorphs (with intertwining serpent-tails) at Aulnay-de-Saintonge (Charente-Maritime) ?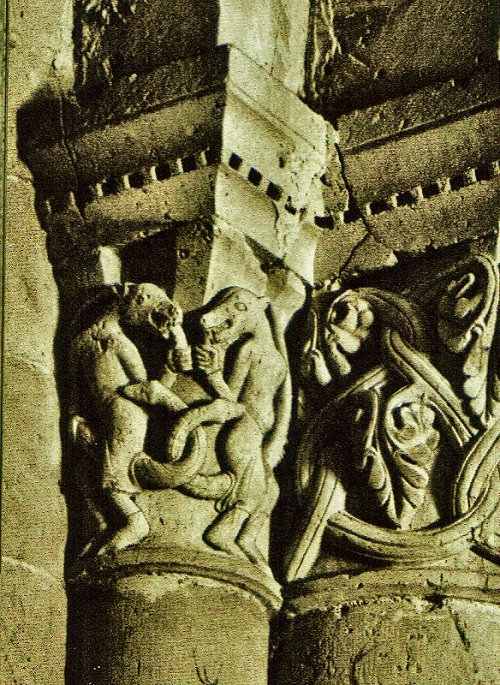 Perhaps the king of tongue-stickers is an exhibitionist cat-man: this amazing cul-de-lampe is in the tower
of St Wulfram's church in Grantham (Lincolnshire) - and is post-Romanesque -
a Romanesque subject given 14th-15th century treatment by a superb sculptor.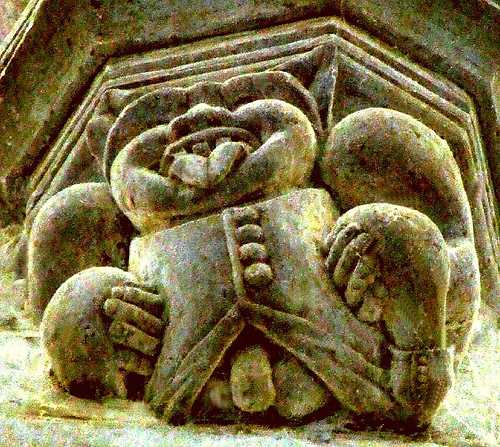 It is not surprising that demons also are portrayed as tongue-stickers.
This one at Villeneuve d'Aveyron (Aveyron) has been imaginatively interpreted as grabbing the scrotum
of a totally-defaced victim. Note the testicular form of his beard.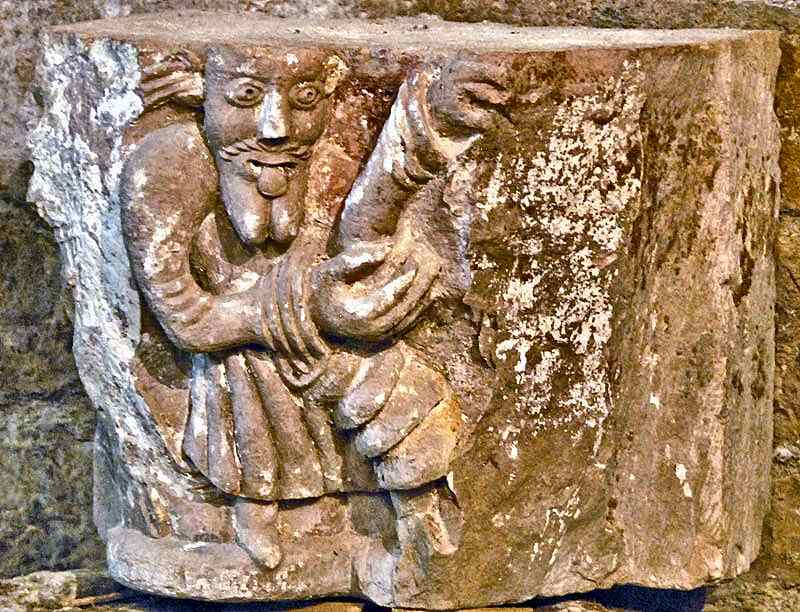 photo © Adrian Fletcher, www.paradoxplace.com

Overlapping with Romanesque-style tongue-stickers is this 'transitional' carving of a tongue-sticking, possibly-hermaphrodite Satan
on one of the three West Doors of Notre-Dame de Paris. Note that he is sitting on a pope,
a wealthy cardinal, and a king.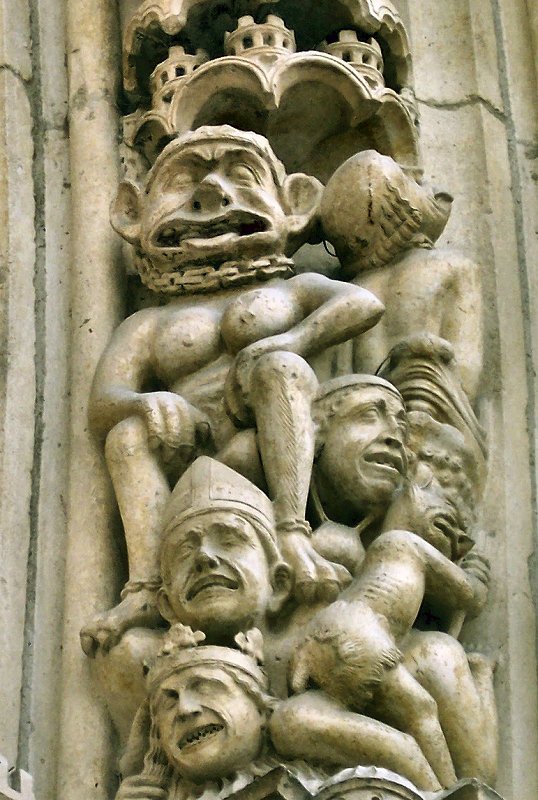 In Norway, tongue-stickers and beard-pullers occur together as at Dalmeny.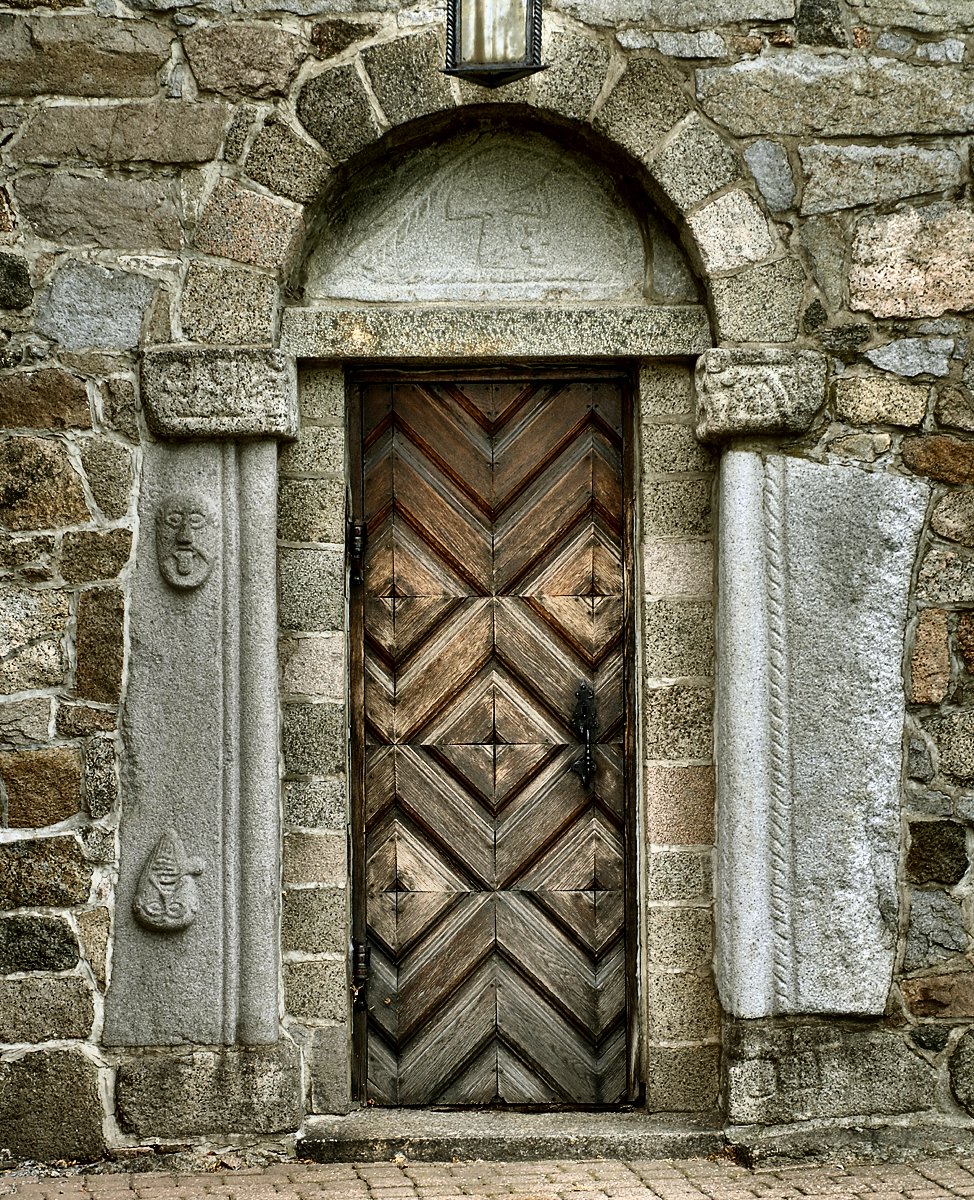 Hedrum (Vestfold) photographed by Kjartan Hauglid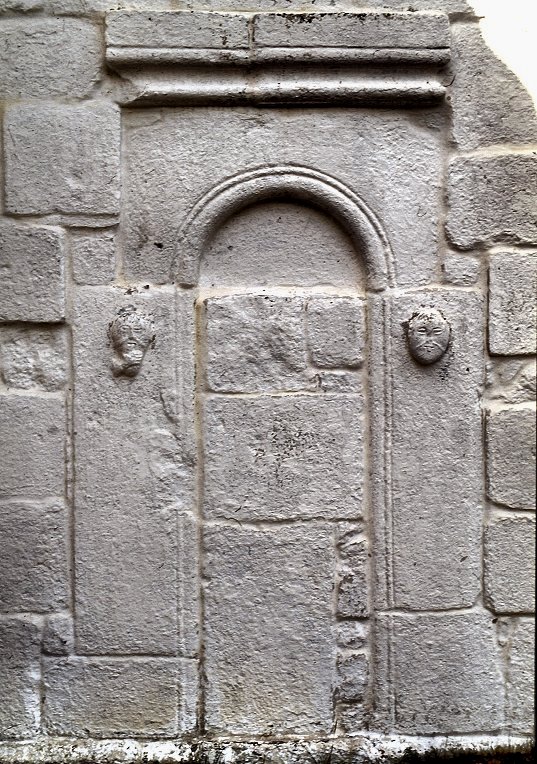 Tromøy (Aust Agder) a mis-reconstructed doorway photographed by Kjartan Hauglid.
Although the Tromøy tongue-sticker on the right looks decidedly Eurasian, I feel that the choice of tongue-sticker as motif and symbol in Norway
carried overtones of pre-Christian depictions of Norse Gods - possibly Lóki (Loge), or possibly Odin who was latterly, and under the influence
of Christianity, depicted as a hanged god. The hanged are usually portrayed with their tongues hanging out. Hanging was also reputed to cause
erection and ejaculation, and where the semen of the hanged man fell on the earth, Mandrake grew.
Thus the motif can carry a lot of sub-meanings - including even a reference to Judas Iscariot, who reputedly hanged himself from a tree.
It is world-wide, of course, from Borneo to Norway, via Kali in India - and the similarity of the tongue
both to the glans penis and to the clitoris is obvious.

As for the Norwegian beard-pullers there is an obvious Scandinavian precursor directly linked to sexuality: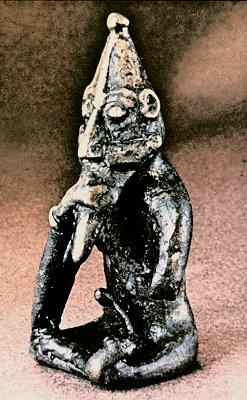 Ithyphallic Norse statue of the male fertility god Freyr from Viking times.

By the end of the 12th century, however, the religious meaning(s) of these motifs began to vanish
and they turned to the mere grotesques that merely decorate the Gothic churches of late mediæval times.
The obviously-significant capital of the mutual beard-pullers at Anzy-le-Duc...
(note the two men kissing on the left)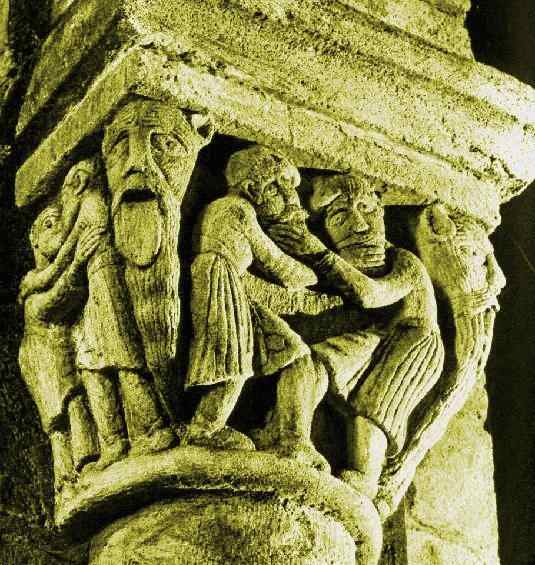 ...is in contrast to an external corbel which verges on the merely-grotesque.

Anzy-le-Duc (Saône-et-Loire)
photographed by Kjartan Hauglid


Romsey Abbey
(Hampshire) photographed by Kjartan Hauglid

Wymondham (Leicestershire) 15th century photographed by Tina Negus
A fine and rare example of an arse-licking (tongue-sticking), poxy, sheep-eared, late-mediŠval mouth-puller
on the rood-screen at Willingham (Cambridgeshire)
photographed by John E.Vigar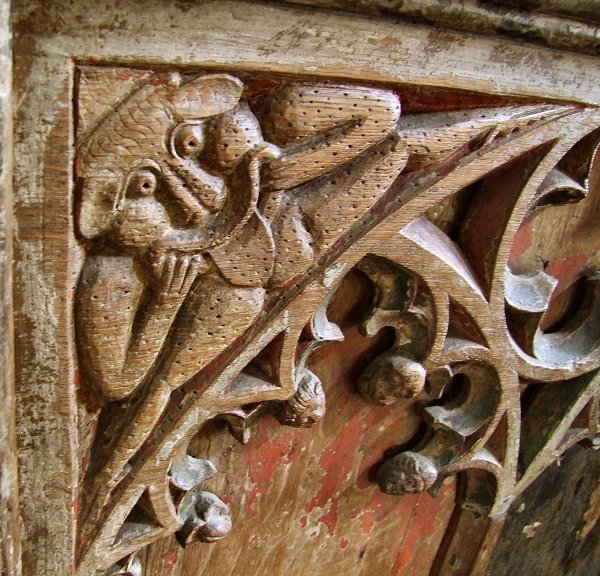 A roof-boss in the cloister of Norwich Cathedral.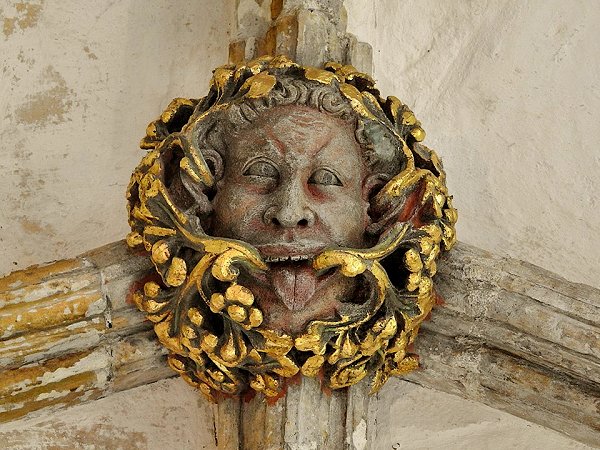 photo by Sean Breadin
A rare tongue-sticking, mouth-pulling, Gorgon-like Luxuria on a cloister capital at Tarragona, Spain.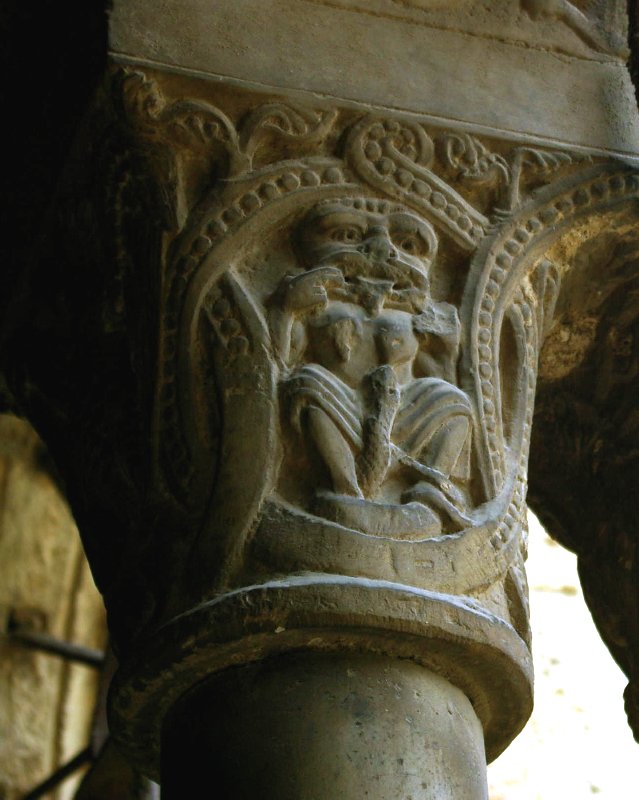 photograph by Peter Hubert

The Full Monty: megaphallic tongue-sticking mouthpuller at Puente la Reina (Navarra)...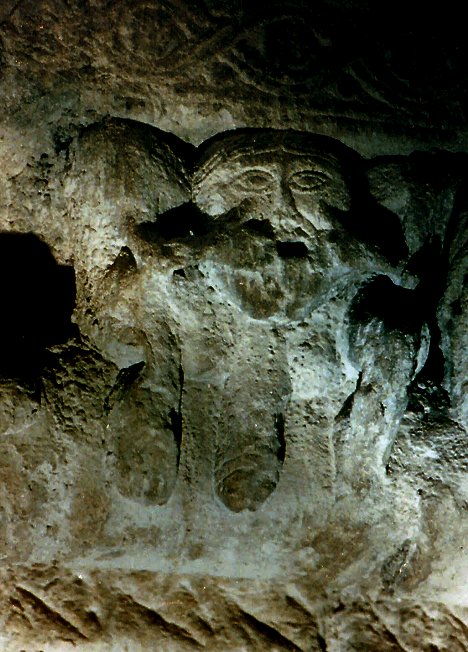 ...and a much later masturbating mouthpuller at Walberswick (Suffolk).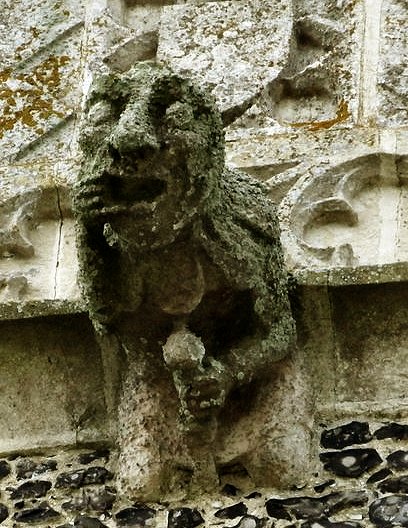 photo by Ron Baxter
The 'Winchester Psalter' dates from the mid-12th century.
This page depicts Jesus with two beskirted demons.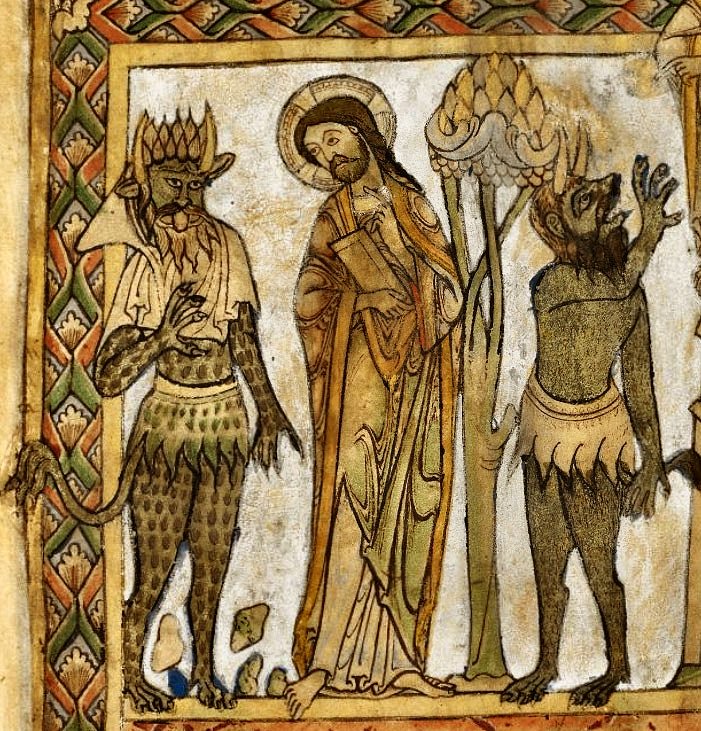 From the fifteenth century, a remarkable example of a mouthpuller and a male exhibitionist in Hell,
from Rabanus Maurus, De rerum naturis, 1425,
Vatican, Biblioteca Apostolica Vaticana, Pal. lat. 291, detail of f. 67v.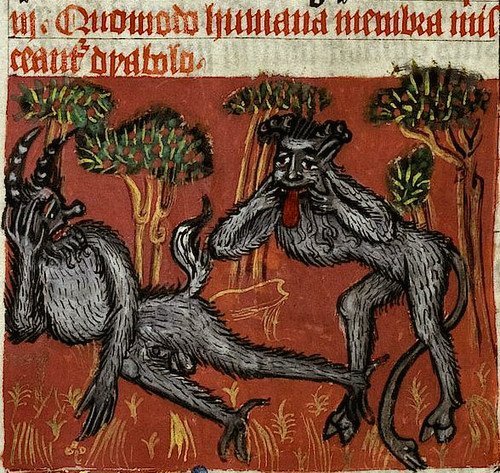 High up on the corner of St Faith's church at Overbury (Worcestershire)
is a post-Romanesque grotesque (with teeth) pulling the toothy mouth of a Blemya-like mask on her belly -
which could also be a vagina dentata...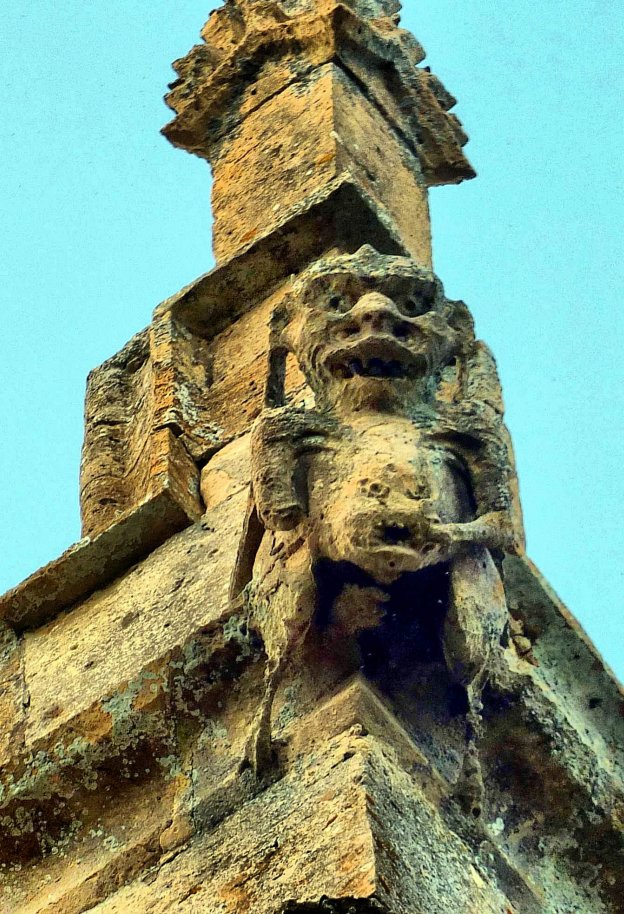 photo by Tina Negus
Click for a rare female exhibitionist which is both sticking out her tongue
and putting her hand to her chin in the manner of a beard-puller >
Click for beard-pullers on several Romanesque capitals >
A superb Herefordshire mouth-puller in the Victoria and Albert Museum, London >
Other (Continental) Romanesque mouth-pullers >

a mouthpuller capital from
Drakestown, county Meath
click for mouthpullers on Irish tower-houses >

Another (Continental) Romanesque beard >
and Irish beard-pullers/tongue-pokers >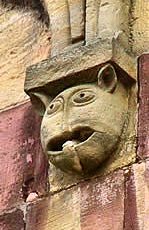 Marmoutier (Bas-Rhin)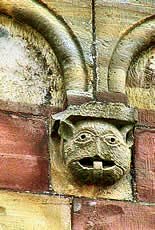 Click for more superb sculptures on the façade.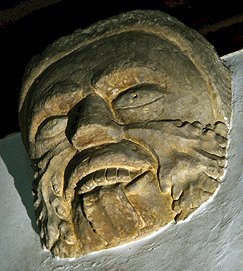 A tongue-poking 'Green Man' at Nether Heyford (Northants)
photographed by Maddy Aldis-Evans