FOURTEEN STRIKING FIGURES OF LUXURIA.

Note: Luxuria has been wantonly mis-translated into English as Lust,
whereas in French it remains a word - la luxure - distinct from le luxe.
It really means the carnal hedonism of the rich, currently the 'Celebrity Life-style',
the excesses of pop-music bands and their groupies,
the 'play-hard' mindset of bankers and billionaires.
It necessarily involves wealth, the amassing of which was, in Latin, Avaritia.
The word was originally employed by the Romans to group together a variety of behaviours
considered dangerous to Republican virtue.

1.Vézelay (Yonne)
Capital of the richly-decorated nave.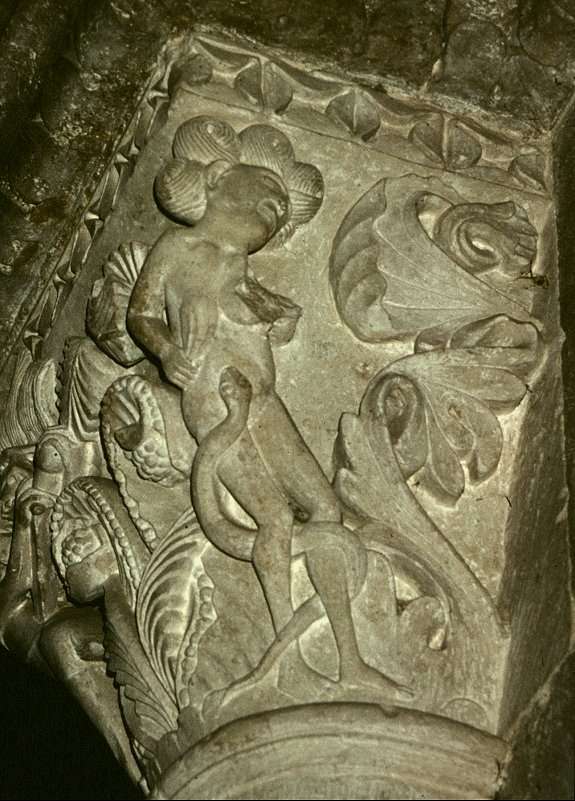 2. Ôo (Haute-Garonne)

Copy of bas-relief from the rustic parish church, now in the Musée des Augustins, Toulouse.

3. Octogone, Montmorillon (Vienne)

Re-erected statue.

photo by Tina Negus

4. Church of Saint-Hilaire, Melle (Deux-Sèvres): a very eroded figure with hands clasped in prayer between two suckling snakes.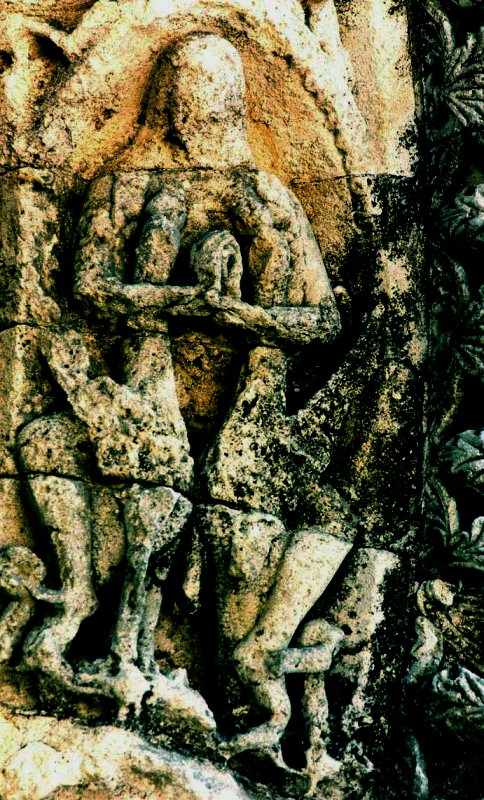 5. Väte (Gotland), Sweden: this figure suckles two large snakes,
while a toad and an asp are looking for nipples in her armpits: the sign of a witch.
This is truly a 'Witch on the Wall'.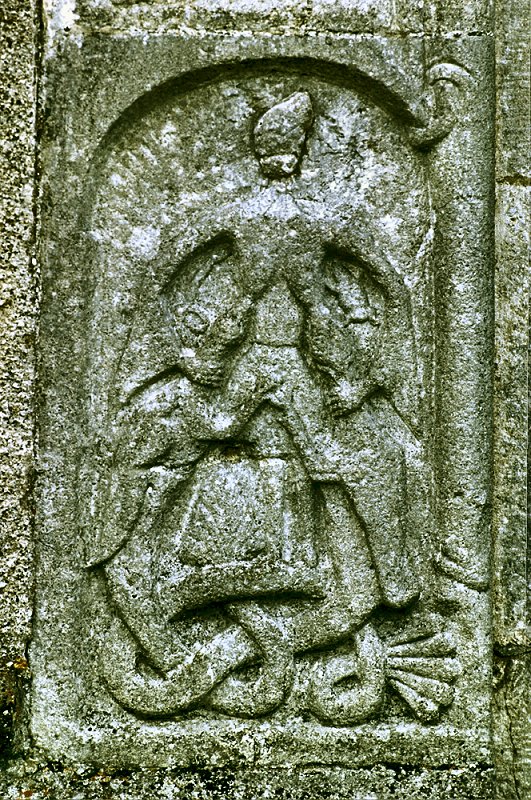 photo by Kjartan Hauglid

6. The celebrated and eroded snake-suckler to the left of the doorway at Moissac (Tarn-et-Garonne).
On the left, a demon with bloated belly and hairy claws spews a toad in her direction...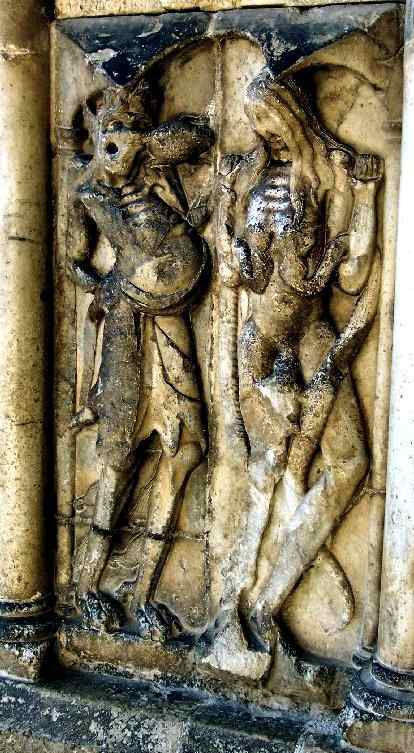 -
...while a toad also tries to insert itself into her vagina.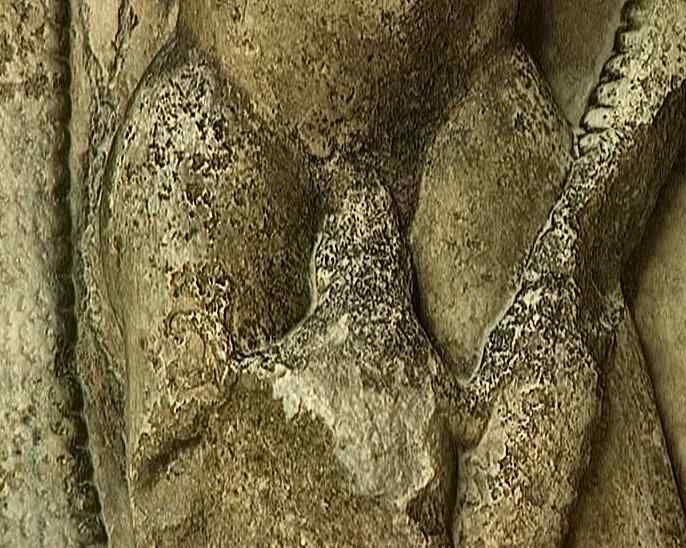 She grips her palms in pain and horror, while her face contorts in the agony of the damned.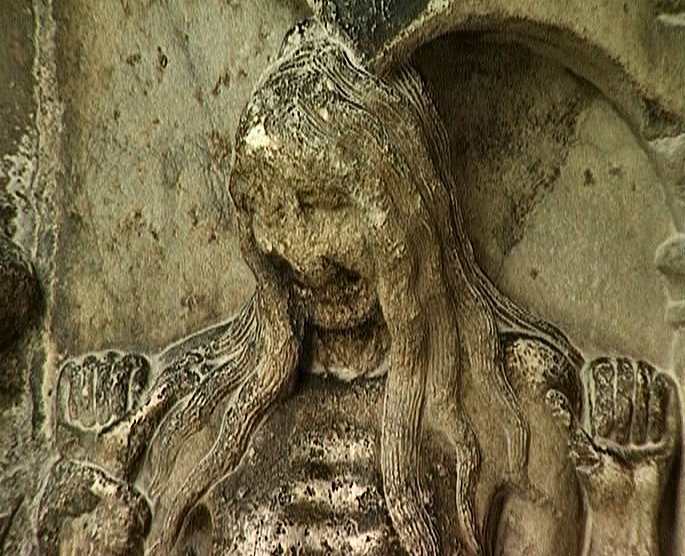 for more details of Moissac click here.
Stylistically related are these fragments at Beaulieu-sur-Dordogne (Corrèze), photographed by Adrian Fletcher.
The rich man is being ridden into Hell by a devil.
The figure on the left may be Gluttony, having 'licked the platter clean'.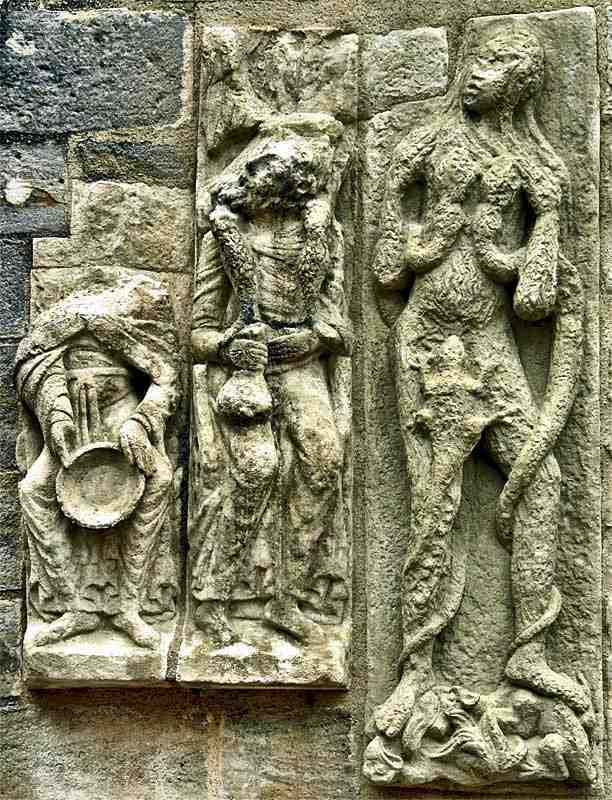 7. Limalonges (Charente-Maritime)

8.
Bordeaux (Gironde), Sainte-Croix, archivolt of doorway.
photos by Anthony Weir

9. A remarkable horned (Satanic) Luxuria on the cathedral of St. Maurice, Vienne (Rhône-Alpes).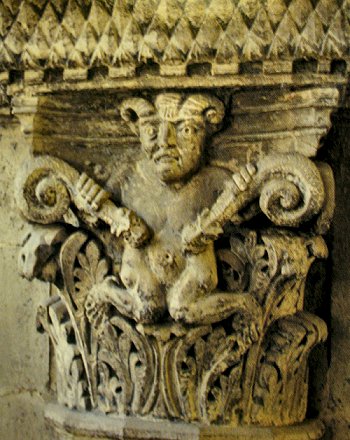 10. A rare tongue-sticking, mouth-pulling, Gorgon-like Luxuria on a cloister capital at Tarragona, Spain.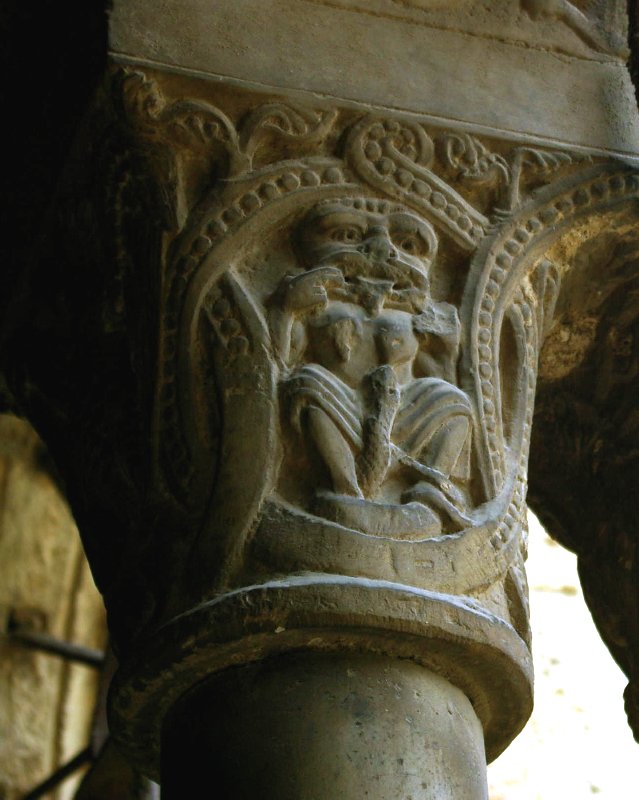 Compare with depictions of Terra and a Mithraic altar in Bordeaux.

11. A corbel on the basilica of San Isidoro (León) emphasises breasts in a rather baroque - and modern - way,
suggesting inspiration from representations of Terra.

12. A corbel on the church of Lomilla de Aguilar (Palencia), which, like the broken corbel at Archingeay,
directly connects the motif of Luxuria with that of the Exhibitionist.
photo by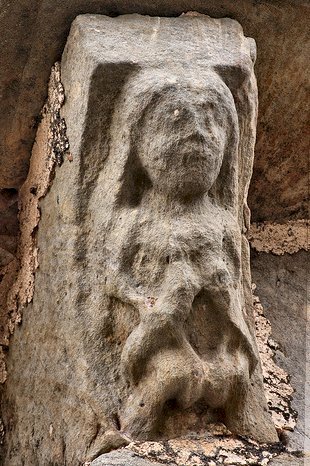 dirk vde

13. A font at Rebanal de las Llantas (Palencia)
This font also has a vielle-player and a procuress pushing a naked male by his buttocks towards a female.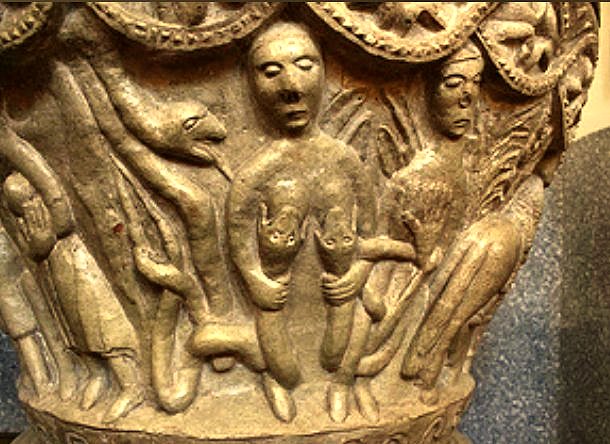 MORE PHOTOS ON FLICKR >

Click for the connection with Terra and snakes >
TEN more examples are on the CD-ROM

See a remote and rustic exhibitionist interpretation of Luxuria in Ireland >

An Italian figure which may be Luxuria - or a high-class whore >

and interpretations and variations on the theme in rural Denmark >
The most shocking depiction of Luxuria, however, depicts her without snakes >
while another shows her clothed and tormented 'only' by demons: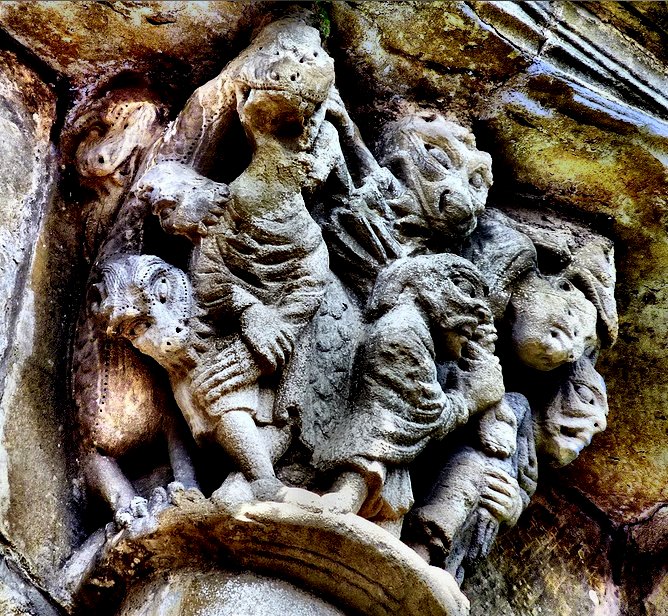 St-Papoul (Aude) : capital attributed to 'The Master of Cabestany'.