Rochester (Kent)

High on the façade of the 12th century cathedral is this triple arcade.
The tympanum on the left shows a common Romanesque motif: of two birds (eagles in this case) drinking from a chalice or vase.
This represents immortality coming from drinking of the Holy Spirit (or the Blood of the Lamb).
The tympanum on the right shows the triumph of good (the eagle) over evil (the serpent).
The tongue-sticking, contortionist exhibitionist (whether it was male or female is not known) in the middle,
brandishes two fish, discussed below.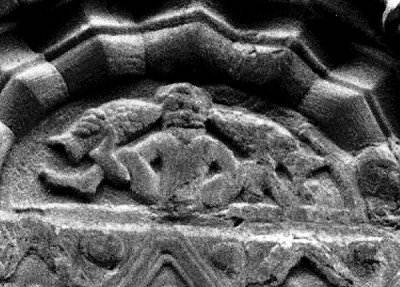 This photo better shows the damage done during the reign of Henry VIII.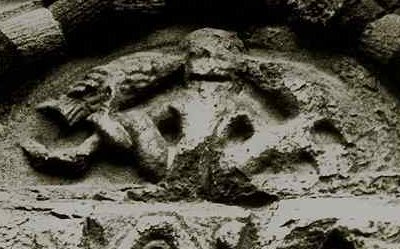 Mermaids/Sirens are occasionally shown brandishing fish, on capitals rather than corbels.
People holding or carrying fish occur occasionally on corbels, especially in maritime areas -
for example, this characteristic fish-carrier (below) at Beautiran (Gironde).
Though the livelihood of many families in coastal Aquitaine, this probably represents
the weight of carnal sin, renewing the ancient phallic symbolism of fish.
(When, however, a man with a large fish occurs on a capital, it is more likely to be Tobias and the Great Fish,
from the Apocryphal Book of Tobit. It may be that the capitals with Tobit were intended to
ingratiate the fishermen, just as men carrying rams in the churches of Auvergne were obviously
intended to resonate with their viewers. Rams on corbels symbolise concupiscence.)
The crudely-carved face of this figure resembles that of several insular exhibitionists, including the one at Doon.