Carennac (Lot) - Abelard and Héloïse ? Henry the Second and Eleanor of Aquitaine ?

Two lovers in sinful union, on an internal capital.
This is one of the few Romanesque churches where the original paint on the sculptures survives.
The sculptures we see now are dull monochrome compared with their richly (if not gaudily) coloured heyday.
They prefigure and predate the famous lovers Francesca da Rimini and Paolo, described in Hell by Dante
not long after the end of the twelfth century. Francesca's husband was Paolo's deformed brother.
On the left are hellish monsters. The figure on the right, however, is not Dante's Virgil but a disapproving ecclesiastic.
For an even more notorious couple was closer at hand: theologian-monk Peter Abelard
and the intellectual nun Héloïse. As a result of their forbidden liaison, Abelard was castrated.
Great princes had also been condemned for Adultery - notably Robert the Pious, Philip the First,
and Henry II of England whose wife Eleanor of Aquitaine was previously married - without issue - to
the King of France.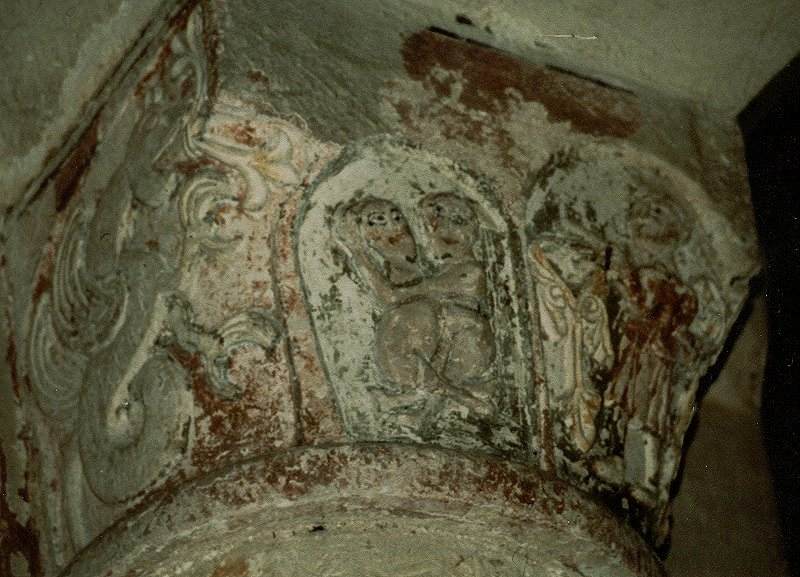 It is just possible that couples in this kind of pose (as at Studland in Dorset)
might have been influenced by Indian statues which came from a very different religious awareness.

Indian sculpture led to the very common motif of the foliage-spewer,
and just possibly had an influence on the Insular female exhibitionists.

Compare also this little Nabatæan ?amulet from Petra: