Cleckheaton (West Yorkshire)

Surrounded by the sprawling industrial areas Bradford, Halifax and Huddersfield,
Cleckheaton's Romanesque church (circa 1120) was rebuilt in 1820.
But the original font, though damaged and repaired, survives: a very interesting example of Rustic Romanesque.
Several vigorous rural carvings - mainly tympana - were carved in the North of England at about the same time.
Although fonts in Denmark and at least one in Spain have exhibitionists on them,
this font is remarkable in having a fairly crude standing female exhibitionist figure
with in-turned feet and deeply-incised vulva, among a row of other crudely-carved and enigmatic figures
(including classic snake-designs symbolising temptation and sin)
framed by a crude miniaturisation of the interlacing false arcades which are a feature of more sophisticated buildings
such as Canterbury, Bristol, Glastonbury and Worcester cathedrals, Much Wenlock abbey,
and important abbeys in Normandy. A superb example of a free-standing, four-sided arcade
survives in the cloister at Soría in Northern Spain.
All but one of the heads of the figures are pointed by the frame of the arches,
the exception is a figure with an elaborate coiffure characteristic of Luxuria figures.
Another has a beard. The exhibitionist is the only one to have legs and feet.
The whole series suggests that this font fulfilled the function
of illustration and castigation of sins usually carried out by corbel-tables. Given the suitability of fonts
for this purpose, it is surprising that there are not more like the Cleckheaton one.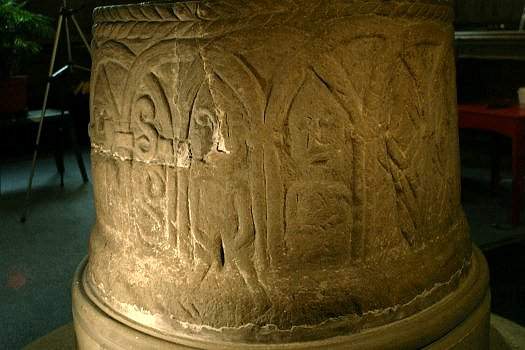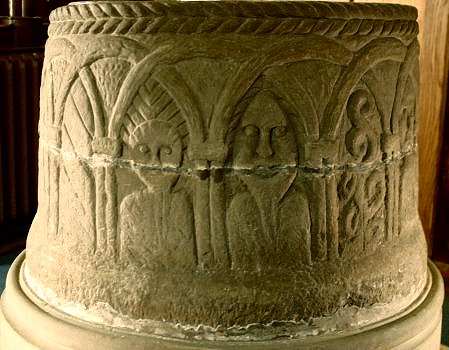 A photograph of the font in the West Yorkshire Archaeology Service's
Medieval Churches of West Yorkshire shows rather well the figure
on the exhibitionist's left, which is a genderless squatter with hands on lap
remarkably like Irish figures on Boa Island and White Island, county Fermanagh.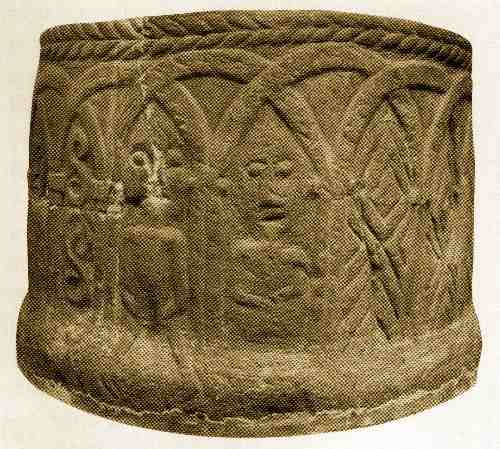 Geometrical designs on the East side.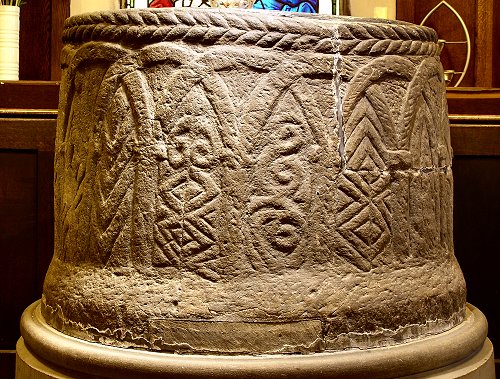 For more pictures of the font, see here >

This church is very close to Bilton-in-Ainsty where two other Romanesque and almost-certain exhibitionists
have suffered deliberate damage.

Compare with a quite different Spanish font >

...and with another crudely-carved font at Winterbourne Monckton in Wiltshire,
featuring a Luxuria figure with hacked-out face suckling slug-like snakes.
The groin-area may have been hacked, and is puzzling because what is or remains between the legs
has traces of original red paint and cannot be interpreted as foliage. Could it be menstrual flow ?
Similar lumpy bits between the legs feature on two Irish castle figures.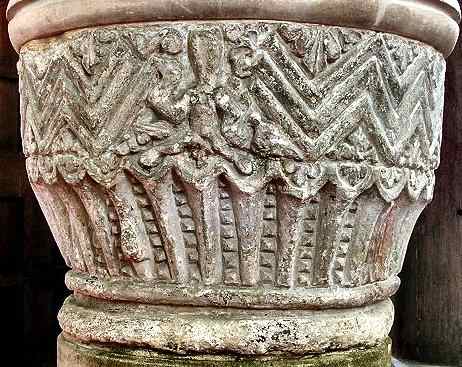 photo by John Harding