Although the casual observer might interpret this as a representation of the Virgin and Child, the creature or object at her breast is certainly not a baby. Representations of the Virgin and Child did not become fashionable in mediæval art until the introduction of the cult of the Blessed Virgin Mary at the end of the twelfth century. This cross-shaft dates from the 10th century at the latest.
Certainly she is grasping something; but it looks very much as if she is trying to remove a toad from her breast.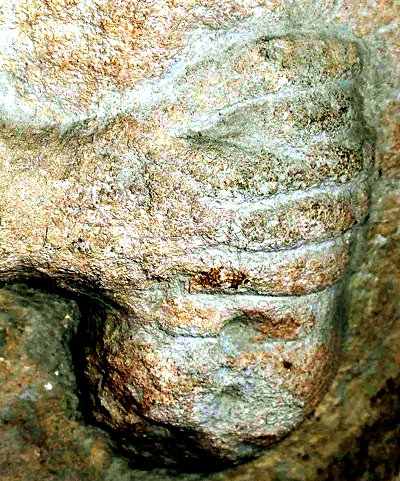 She may have long, luxuriant hair, or be wearing a luxurious garment; she is also wearing a skirt. Figures of Luxuria are often depicted wearing skirts, and the long hair is a defining feature.
The eternal Hellish punishment of the adulteress, harlot or depraved woman of luxury was generally agreed upon:
Crapauz, colovres et tortues
Lor pendent aux mamelles nues.
Toads, vipers and tortoises
will cling to their naked breasts.
(Etienne de Fougères, 12th century Bishop of Rennes)
Et vidit in alio loco viros ac mulieres, et vermes et serpentes comedentes eos.
And there [in Hell] he saw men and women continually eaten by worms and snakes.
(Visio Sancti Pauli)
__________
Another toad features (together with a snake and a tortoise) on the doorway of the 12th century church at Saint-Léger-de-Montbrillais (Vienne); and other eternally-suckling damned females can be seen at at Rabastens (Tarn), Deyrançon (Deux-Sèvres), and on a beautifully-sculpted capital at Vézelay (Yonne).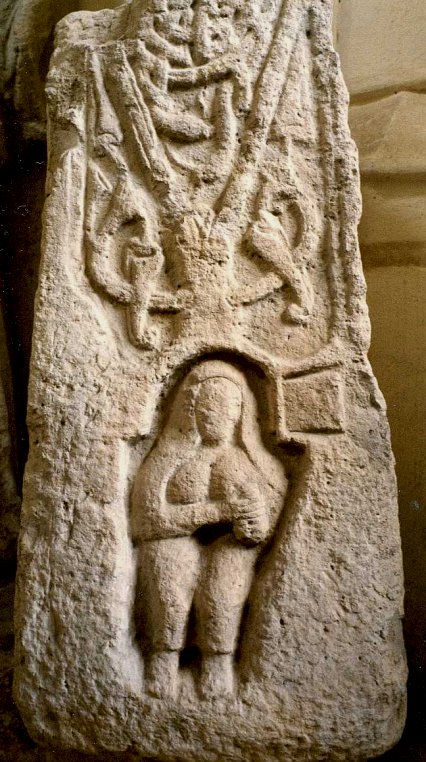 photo by Tina Negus
If this cross-shaft has the earliest representation of the 'eternal suckler', pre-dating the Romanesque examples by at least a century, it parallels the 8th century Anglo-Saxon manuscript depicting a graphic male example of the eternal punishment of the concupiscent male long before the Romanesque period: