RECORDED EXHIBITIONIST FIGURES IN IRELAND
I am indebted to Gabriel Cannon for the map references to relevant entries. The numbers and letters refer to the Discovery Series 1:50.000 maps. The map number (followed by an oblique) precedes the Irish National Grid letter and co-ordinates.
Only INDISPUTABLE figures are listed in BOLD type.


COUNTY CAVAN
• Berrymount - probably male, from the early monastery of Toomregan. Now in Ballyconnell protestant church. 27A, 27/H271.188
• Cavan - from the ruins of an old church, now in the Cavan County Museum, Ballyjamesduff. 35/N525.907
• Lavey - found buried in a graveyard of the old church in 1842, now in the Cavan County Museum.

COUNTY CARLOW
• Bennekerry Castle (?) - a large figure some 30 by 95 cms currently in private ownership near to the castle from which it most likely came, a few kilometres NE of Carlow town.
COUNTY CLARE
• Ballyportry Castle - now at the National Museum, Dublin.
• Bunratty Castle - inside the restored castle (to which there is an admission charge).
• Clenagh - on a quoin near ground level. 58/R 36.65
• Killaloe - now-headless figure at the well next to St. Flannan's Church. 58/R699.730
• Clo[o]nlara[gh] - a doubtful figure on a parapet of the Old Canal Bridge, perhaps moved from Newtown Castle. 58/R 627.646
• Killinaboy - above the doorway of the old church. 51/R271.916
• Rath - on an upside-down twelfth-century window-sill. 57/R271.857
• Smithstown Castle - window-carving of male genitals.

COUNTY CORK
• Aghadoe Castle see Killeagh.
• Ballynacarriga Castle - on the S. wall. 86/W280.508
• Ballynamona Castle - near Mallow, destroyed in the 1820s .• read more •
• Ballyvourney (not exhibitionist) - over window in St. Gobnait's Church. 79/W110.770
• Barnahealy - at Castle Warren, gone missing.
• Castlemagner - at St Brigid's Well, opposite the ruined castle. Not exhibitionist.
• Castle Widenham - kept inside the private Castle Tower, it can be seen by permission. 73/R37.03
• Glanworth Castle - a worn example in the Dúchas store in Mallow.
• Killeagh - recently re-erected on the old dovecote of Aghadoe Castle. 81/X001.76
• Kinsale - on a stone in St. Multose Church. Not exhibitionist.
• Ringaskiddy - a recently reported, worn figure with inward-turned feet,now in the Fitzgerald Park Museum, Cork.
• Tracton Abbey - now in the Fitzgerald Park Museum, Cork.
COUNTY DERRY (LONDONDERRY)
• Maghera - on the north side of the tower of the old church. Truncated and doubtful. 8 C856.002
COUNTY DONEGAL
• Corveen Castle, Lough Eske - missing, recorded in 1846 as a feet-to-ears acrobat, built into a coach-house.
• Coolort modern male and female incised on rendered gateposts.
COUNTY DOWN
• Grey Abbey Ireland's only 'scrotal male' exhibitionist on N side of nave.

COUNTY DUBLIN
• Grangegorman - in the North of the city, a very small figure apparently re-located fron elsewhere, like the Drogheda figure. See irelands-sheelanagigs.org for its location.
• Lusk - missing, buried in 1844.
• Malahide - on a quoin on the ruins of Malahide Abbey. 50/O221.454
• Jamestown (Stepaside) - on a short cross, along the Enniskerry road. Not exhibitionist.
Jamestown figure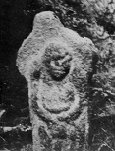 Click to see the other side.
Another (non-exhibitionist) figure, framed by a a crozier, has been revealed on the other side.
• Swords Glebe - on a standing-stone now in the National Museum, Dublin. Barely-exhibitionist.

COUNTY FERMANAGH
• Aghalurcher - Romanesque penis-less, head-to-ears male acrobat. 27 H366.314
• Boa Island - two squatting figures back-to-back: phallic male, non-exhibitionist female.
• Devenish Island - discovered in 2003, carved on a slab, the bottom part of which is missing, but it is quite possibly exhibitionist. 17,18 H225.469
• White Island - not exhibitionist. .

COUNTY GALWAY
• Annaghdown - an ithyphallic dog on a voussoir of the cathedral window. 45/M286.380
• Ballinderry Castle - on the keystone of the 16th century doorway. 46/M445.462
• Cooltymurraghy - in a private collection. view a negative image.
• Merlin Park - a tiny upside-down figure on a decorated window of Doughiska Castle recalling carvings at Ballinderry Castle and from Smithstown, county Clare.on the keystone of the 16th century doorway. 46/M35.25
COUNTY KERRY
• Kilsarkan - a widely splay-legged figure rubbed in groin area, but not exhibitionist - above a window in the old church. 72/R026.017
• Lixnaw - from Lixnaw Castle, now in the National Museum, Dublin.
• Rattoo - a worn figure with huge ears and Indian dancer legs inside the top of the (earlier) Round Tower. A cast of the original is in the National Museum, Dublin. 63/Q875.340
For pictures of the tower go to the website http://roundtowers.org/rattoo/index1.htm
COUNTY KILDARE
• Blackhall Castle - formerly beside the doorway of the now-destroyed castle, hidden in safe keeping. 55/N797.022
• Carrick Castle - gone missing in 1901 either from a Cambridge Museum or en route to it. On higher ground to the N is "The Witch's Rock". 49/N641.369
• Kildare Cathedral - A figure on the Wellesley tomb (1539) which is acrobatic but doubtfully exhibitionist.
Kildare figure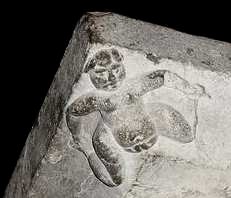 • Kilkea Castle - a remarkable group of inter-penetrating human and animal male exhibition-ists. 61/S740. 890
COUNTY KILKENNY
• Balleen Little - discovered around 1994, but not published, this figure has a rope (or a snake ?) around its neck and dangling down its torso. 60/S377.668
• Ballylarkin Church - now in the National Museum, Dublin.
• Clomantagh Castle - high up on a quoin, and long-covered by ivy except from the mid 1940s to the mid 1970s. 60/S348.638
• Cooliagh More - reportedly found down a well at Kyle and now half-displayed in Rothe House, Kilkenny.
• Tullaroan - a recently-reported figure (in private ownership) with asymmetrical eyes, ridiculously high breasts and a long slit-vulva. 67/S407.572
COUNTY LAOIS
• Ballaghmore Castle - on a quoin. 60/S197.899
• Cullahill Castle - high on the south wall. 60/S356.740
• Portnahinch Castle - from castle ruins, now destroyed, but mentioned by Barbara Freitag as holding its right hand to its right ear. See Tinnakill, below.
• Rosenallis - found in the ancient graveyard in 1992 and now in the National Museum, Dublin.
• Shane Castle - missing, its presence recorded in the 1840s.
• Timahoe - a squatting figure at the base of the doorway of the Round Tower, and another figure on the wall of the ruined castle nearby. 55/S535.903
• Tinnakill Castle -removed, with the Portnahinch figure, to a boundary wall of a private house, and subsequently destroyed. Read more >
"It would be considered unusual, certainly, because when they have been found in the past there has been a tendency to destroy the wretched things - if people recognised them for what they are." - Rev. David Woodworth, Dean of the Church of Ireland Cathedral in Cashel, on the sheela-na-gig found in Clonoulty graveyard, which may have been used as a grave marker. (1989)
See distribution map for approximate locations.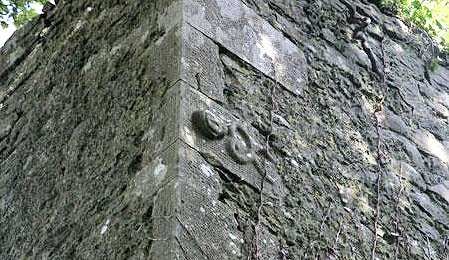 Cloghan Castle, county Roscommon

COUNTY LIMERICK
• Caherelly Castle - headless, now in the Hunt Museum, Limerick.
• Dunnaman Castle - high on the wall. 65/R473.422
• Fantstown Castle - on NE quoin of tower-house. 73/R649.279
• Tullavin Castle - on a high quoin.65/R535.388


COUNTY LONGFORD
• Abbeylara - a very worn, very high-relief figure on the remains of the Cistercian tower. 42/N366.796
• Rathcline - on a window embrasure of the old church. 40/M997.661

COUNTY LOUTH
• Drogheda - in Millmount Museum.
• Monasterboice - probable Luxuria figure on E side of Muiredeach's Cross. Not exhibitionist. 36/O043.821

COUNTY MAYO
• Aghagower - recently discovered on the well opposite the ruins of the church and Round Tower - and visible from the Lounge door of the pub. 31/M035.805 It was stolen in 2006 and its whereabouts is unknown.
• Hollymount (between Ballinrobe and Claremorris) - also recently discovered, seemingly the addition of a small sheela-body to a pre-existent head: http://www.irelands-sheelanagigs.org/wp-content/uploads/Sheela-na-gig-at-Hollymount-1.pdf

COUNTY MEATH
• Ardcath - at entrance to modernised dwelling. 43/O056.627
• Dowth - known as 'St Shanahan' (Old Fellow), on the south wall of the ruined Church. Drawing by Du Noyer from before 1869. Now almost entirely obliterated. 43/O026.737
• Kells - missing from church.
• Johnstown - below the 12 Apostles on a font removed from Kilcarne church 1 km to the south are a clawed animal somewhere between a wolf and a lion licking its genitals, and a wrestling or copulating couple. 42/N875.660
• Kilbride/Dillon Castle - seven metres up the E wall of the most south-easterly of a group of castle ruins at Moymet near the village is a weathered figure, probably robed. 42/N777.602
• Rosnaree - on wall of former water mill and almost effaced by whitewashing. 43/N995.720
• Tara - on a standing stone known as St. Adamhnan's Pillar. Not exhibitionist. 42, 43/N922.598


COUNTY OFFALY
• Birr - on display at National Museum, Dublin.
• Cloghan Castle - missing, recorded in 1906.
• Clonbulloge - a recently-reported damaged figure, with slanted eyes, striated face and protruded tongue. Now in the Public Library. 49/N611.268
• Clonmacnois A - slightly exhibitionist acrobat on the chancel arch of the "Nun's Church". 47/N010.307
• Clonmacnois B (possibly a second figure from Burgesbeg, Tipperary), a very crude carving now in the National Museum, Dublin.
• Doon Castle - on quoin to left of main entrance. 47/N118.316
• Garry Castle - very high up and soon to fall down. 53/N021.137
• Knockarley - in private hands.
• Rahan - now in the Castle Museum, Athlone.
• Lemanaghan Castle - missing since 1870.
• Seir Kieran - once at the old church, now on display at the National Museum, Dublin.

COUNTY ROSCOMMON
• Boyle Abbey - not exhibitionist.
• Cloghan[e] Castle - sideways on a quoin. 40/M844.508
• Emlaghmore - on a decorated stone at Temple House - privately owned. 40/M803.672
• Rahara - on the keystone of the church-doorway. 40/M910.524
• Scregg - two figures from the castle, now on Scregg House. 40/M931.558
• Ta[u]ghboy- on the apex of the church gable, apparently sitting on male genitals. 40, 47/M836.498


COUNTY SLIGO
• Behy Castle - now in private hands. 25/M719.220
• Moygara Castle - fallen arch-stone, not exhibitionist.

COUNTY TIPPERARY
• Ballinaclogh - on a quoin on the SW corner of the older church in the centre of the village. 59/R893.749
On a castle at another Ballinaclogh some 17 km SSE (66/R 984.406) is an entirely defaced figure which might have been a sheela-na-gig.
• Ballyfinboy Castle - on a quoin on the west wall. 53/R898.936
• Ballynahinch Castle - a dancing figure near the doorway. 66/S036.408
• Burgesbeg - from a ruined church, now at the National Museum, Dublin.
• Cashel - a typical squatting figure placed sideways on the mediæval church on the Rock of Cashel. 66/S028.504 (another view, turned round)
• A second figure with twisted legs is in the Cathedral and is not exhibitionist. A third very faint figure with large vulva & circular ears can be seen in the
• Cashel Palace Hotel - formerly the Bishop's Palace.
• Clonmel - from a Dominican priory, now in the National Museum, Dublin.
• Clon[o]ulty - a recently discovered figure without facial features, currently in the GPA Bolton Library in Cashel. 66/S028.504
• Fethard - one Sheela is on the Old Town Wall overlooking the bridge. 67/S21.35 The other (barely-exhibitionist) is at


• Fethard Abbey, on the 14th century ruins.
• Holycross Abbey - almost effaced by hacking, on wall, near entrance to the 15th century cloister. 66/S090.542
• Kiltinan(e) Church - stolen in 1990. 67/S231.319
• Kiltinan(e) Castle - on the well-house (since 1940) in private grounds. Originally from the castle or, possibly, the church ?
• Liathmore - horizontally-set stone in doorway of 12th century church ruins. 67/S225.576
• Moycarky Castle - the well-known, early-reported figure known as "Catherine Owen" is no longer extant, but a 19th century drawing of it is convincing.
• Newtown Lennan - from a mediæval church, now in the National Museum. Dublin.
• Redwood Castle - high up on the front wall. 53/M928.098
• Rochestown - at a ruined church, one of the earliest recorded (1840), long since missing.
• Shanrahan - one figure half-way up the W side of the tower of the old church, another low on the E side. 74/R991.135
• Thurles - a damaged figure on a remnant of the town wall, currently hidden behind a new building.
Thurles figure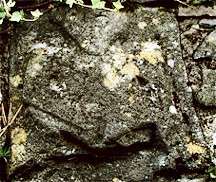 COUNTY TYRONE
• Errigal Keeroge - from the ruined church, now in the Ulster Museum, Belfast.
COUNTY WATERFORD
• Kilmacomma - recorded in 1937, found in a sandpit, put on a barn gable, alleged to have brought "ill-fortune," and now missing.
• Tallow - Now in storage, this damaged and weathered, clothed figure, recently dug up from the graveyard, has similarities to carvings from Rahan and at Cloghan Castle. The head has no ears and no breasts are apparent. There is no vulva but the remaining right hand is in just the right place to share a common purpose with most other sheela na gigs. Only half of the left arm remains, but the forearm could have passed over or under the left leg.
COUNTY WESTMEATH
• Athlone - in the Athlone Castle Museum, once in the convent: a footless figure clutching its knees to its chin.
• Ballycloghduff - megaphallic male on a gatepost at the entrance to a driveway. 48/N177.432
• Carne Castle - now in the National Museum, Dublin.
• Killua - found in 1859, and, recorded as 'Chloran', for long in the Witt Collection of the British Museum. Very similar to the Cavan carving.
• Moate Castle/Cartonkeel - small tongue-sticking feet-to-ears acrobat over rear gateway. 48/N19.38
• Taghmon - high-relief squatting, toothily-grimacing anal-exhibitionist (with hands clutching knees) above a window in the north wall of the 15th century church.
It has two sets of eyes, a characteristic ascribed by mediæval Europeans to Ethiopians. 41/N485.615
COUNTY WEXFORD
• Unnamed castle - Very crude and headless, vulva-pulling and emaciated figure found during recent conservation-work.
COUNTY WICKLOW
• Glendalough - A tiny figure at the bottom of the 12th century east window in St Saviour's church is Ireland's only "femme-aux-serpents", crudely exhibitionist.
O/134.966